Your field of vision is the space around you where objects are visible. Seeing what is right in front of your eyes is important, but so is the ability to see things out of the corners of your eyes. The entirety of your field of vision helps you to navigate the world around you.
Any loss of vision, particularly if it is a sudden onset loss of vision, can be scary. Peripheral vision loss—the reduced ability to see things other than what is directly in front of you—can be caused by several factors.
If you have vision loss of any kind, whether sudden or gradual, it is important to visit your optometrist for a comprehensive eye exam. Eye exams can help your optometrist rule out any diseases or health conditions that may be impacting your vision.
Read on to learn more about the causes of peripheral vision loss.
What Is Peripheral Vision?
When your eyes are focused on an object in front of you, like an eye chart, you're using your central vision. Anything you see outside of that central area is known as your peripheral vision, or side vision.
In other words, it's what you see out of the corners of your eyes.
What Is Peripheral Vision Loss?
When you can't see objects unless they are right in front of you, this is known as peripheral vision loss, or more commonly, tunnel vision. Loss of vision to the left and right, as well as to the top and bottom, can make it feel as though you are looking through a tunnel or a tube. Hence, tunnel vision.
Symptoms of Peripheral Vision Loss
Peripheral vision loss can occur in either just one eye or in both eyes. Some symptoms to watch out for include:
Tripping
Bumping into objects
Poor vision in low light
Difficulty driving
Difficulty navigating crowded spaces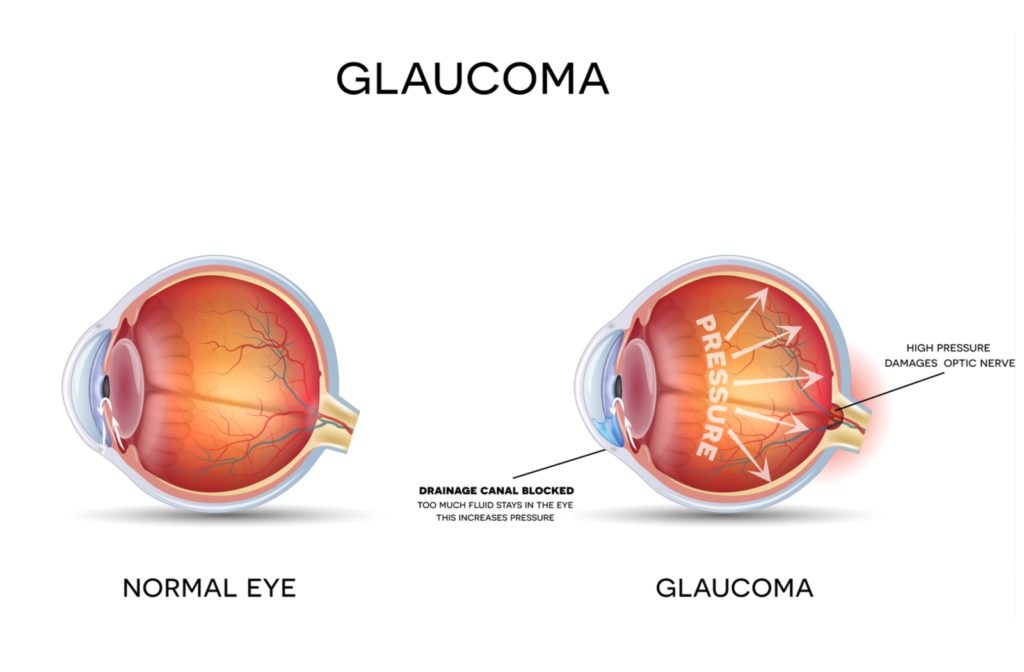 Causes of Peripheral Vision Loss
Peripheral vision loss can be temporary or permanent, sudden or gradual. There are a number of medical conditions for which peripheral vision loss is a symptom. It is important to have an eye exam in order to determine if any of these conditions are causing your peripheral vision loss:
Migraines
Migraine headaches are sometimes associated with visual disturbances. They can cause temporary loss of peripheral vision. Generally, vision loss lasts only 20-60 minutes.
Sleeping or resting in a dark room can alleviate migraine symptoms, as can over-the-counter pain relief medication. If your vision does not return to normal within an hour, it is time to seek medical attention.
Glaucoma
Glaucoma is a group of eye diseases, characterized by damage to the optic nerve. Usually, this damage is caused by high intraocular pressure. Known as the "silent thief of sight," glaucoma is a serious eye disease that requires professional treatment. It can cause permanent vision loss.
Peripheral vision loss is a symptom of glaucoma. If you have any peripheral vision loss, it is important to rule out glaucoma, so see your optometrist right away.
Stroke
Peripheral vision loss can occur due to a stroke. Vision difficulties are common symptoms of stroke, and they may occur in one or both eyes.
Retinitis Pigmentosa
Retinitis pigmentosa is a group of genetic eye problems that cause damage to the retina through the breakdown and loss of cells. People with this condition lose their vision over time. Gradual loss of peripheral vision is a sign that you may have retinitis pigmentosa.
Treating Peripheral Vision Loss
Traditional glasses and contact lenses are unable to correct peripheral vision loss, and unfortunately, it is irreversible. But, with regular eye exams, your optometrist can detect peripheral vision loss in its early stages, and treat any medical conditions that may be causing it.
Magnifiers, telescopic glasses, and prism glasses may also be able to help you navigate peripheral vision loss. Your optometrist will recommend the best options for your unique situation.
See the Whole Picture
Even if you have 20/20 central vision, peripheral vision loss can still impact your life. During a comprehensive eye exam, your optometrist can perform visual field testing to determine just how well you see out of the corners of your eyes.
Visual field testing is commonly performed during regular eye exams, so even if your peripheral vision loss is minimal and you aren't noticing it yet, your optometrist will.
Peripheral vision helps you see the whole picture and take in everything that is going on around you. If you have any disruption in your vision, even if it seems minor, please see your optometrist right away.