Which is better: contact lenses or glasses? It's an age-old question.
As we continuously learn about our eyes and their needs, more and more people discover the numerous options available for achieving crisp, clear vision. Glasses and contact lenses are 2 options patients ask about the most, and they have a variety of advantages that serve many types of demands.
Everybody is different, including our eye care needs. Before you can decide whether glasses or contacts are better for you, we recommend speaking with our team and booking a comprehensive eye exam. Eye exams are the key to unlocking a whole world of eye care and eyewear services, all of which we can tailor to suit your eye health and vision.
Whether you want glasses or contact lenses, Urban Optique is ready to serve you!
Glasses & Contact Lenses: What's The Difference?
Understanding your needs and lifestyle is the first step towards determining if glasses or contact lenses are right for you. While eye exams can help us understand your eye health and vision, there are numerous lifestyle considerations you also have to make.
Your lifestyle can include your job, your hobbies, your pets, and so much more. Please take a look at the various advantages and disadvantages both of these lens types have to offer when it comes to how they affect your lifestyle.
Glasses
Advantages
Easy to put on
Opportunities to accessorize
Some environmental protection (dust, dirt, debris)
No eye touching
Disadvantages
Sometimes a high up-front cost
Needs regular cleaning
Expensive to repair/replace
Improperly-sized glasses may cause pressure on your nose and sides of your head
Clear vision bordered by frames
Sometimes shouldn't be worn for sports and physical activities (excluding sports eyewear)
Contact Lenses
Advantages
Wider field of clear vision
More suitable for sports and physical activities
Free from stylistic preferences
Eliminates the need for prescription sunglasses
Disadvantages
Needs regular prescription refills
Needs you to touch your eye to apply and remove them
May not be suitable for conditions like dry eye
Requires regular cleaning to avoid eye infections
Sleeping with contacts could lead to irritation and redness
Common Contact Lens Types
A few different contact lenses could help even if you only wish to correct a refractive error.
Some of the most common types of contact lenses include:
Soft Contact Lenses
Soft contact lenses are made of soft hydrogel materials, making them one of the most comfortable pairs of contacts to wear. These lenses may also come in various types, including daily and extended wear.
Soft contacts are easy to adjust to, and can help correct nearsightedness, farsightedness, astigmatism, and presbyopia.
Rigid Gas-Permeable Contact Lenses
Rigid gas-permeable contact lenses (RGP) are made of plastic materials that allow oxygen to pass through and reach your eye.
These lenses may be harder to adjust to, but they are known for providing crisper vision and being easier to maintain than soft contact lenses.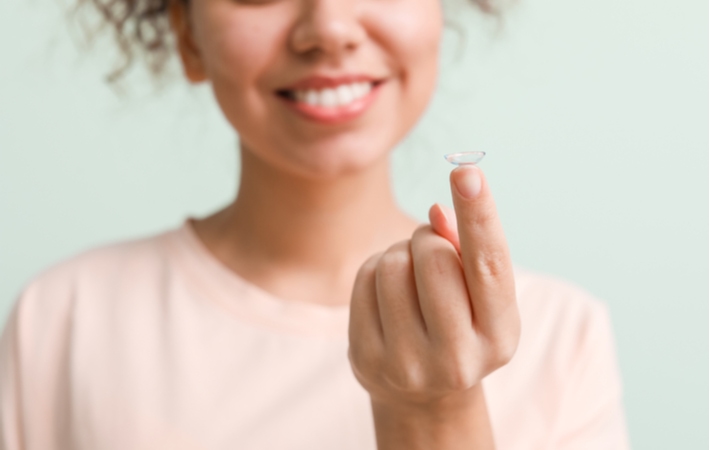 What About Specialty Contact Lenses?
One of the reasons so many people consider using contact lenses is the function, materials, and design advancements they've made.
Contact lenses can help provide clear, comfortable vision even with certain eye conditions and refractive errors. These lenses, known as specialty contact lenses, can include:
Multifocal Contact Lenses
Multifocal contact lenses include multiple prescriptions to help correct refractive errors at various distances.
These lenses may help correct errors caused by presbyopia, a common age-related refractive error that could affect how clear your sight is at various distances. These lenses are especially helpful if you want to reduce your reliance on reading glasses.
Scleral Contact Lenses
If you have a corneal issue, like keratoconus, scleral lenses might help you find crisp, comfortable vision.
Scleral contact lenses have a larger diameter than traditional contact lenses, allowing them to rest on the sclera (whites) of your eyes. The centre of the lens then vaults over the cornea, which can help provide clear vision without interfering with your corneal issue.
Orthokeratology Contact Lenses
Orthokeratology contact lenses, also known as ortho-k lenses, are a popular lens type used to help control myopia development.
Myopia, also known as nearsightedness, often develops in school-aged children as their eyes grow too long or their cornea becomes too steep. When these events happen, it can make it difficult for light to reach the back of your child's eye, the retina, and provide them with vision.
Ortho-k lenses gently reshape your child's cornea as they sleep, helping them achieve clear vision throughout the day without the use of either contacts or glasses. At the same time, it can help slow down myopia progression.
Hybrid Contact Lenses
Hybrid lenses are fantastic for those looking to combine the benefits of both soft contact lenses and rigid gas-permeable lenses.
Hybrid lenses use a rigid gas-permeable centre surrounded by a soft hydrogel skirt. Combining these 2 materials helps provide the comfort of soft contact lenses and the crisp, clear vision of rigid gas-permeable lenses.
Toric Contact Lenses
Toric contact lenses are a unique type of contact used to help correct astigmatism.
These lenses, sometimes known as torics, have a unique design that helps correct refractive errors at different eye areas. They sometimes also include a feature to help prevent your contacts from rotating while you wear them, ensuring you have clear vision all day long.
Ultimately, Your Eyes Will Know What's Best
When it comes to glasses or contact lenses, the choice depends on your eyes and what's best for them.
Not everyone is a candidate for contact lenses, so it's essential to have a contact lens exam and fitting if you wish to try on a pair of contacts. Our team will take several detailed measurements and tests during your fitting to ensure your contacts provide the clear, comfortable vision you deserve. Book a contact lens exam and fitting at Urban Optique today!