At Urban Optique, we love providing eyewear options that suit your needs and lifestyle. Whether you're looking for stunning frames to match your unique fashion sense or contact lenses to bridge the gap between convenience and clarity, we want you to have as many options as possible.
However, one option is looking to correct your vision forever—this option is laser eye surgery.
A question many people may ask is, "how safe is laser eye surgery?" Like any procedure, there are a number of risks to consider before you and your optometrist can make a decision. Ultimately, your eye health and vision issues will determine if laser eye surgery is right for you and your needs.
Though laser eye surgery can be a quick procedure (sometimes only lasting about 15 to 30 minutes), the effect it has can last a lifetime. Because of this, it's absolutely essential to speak to your optometrist about the potential risks you might face if you're interested in this type of procedure.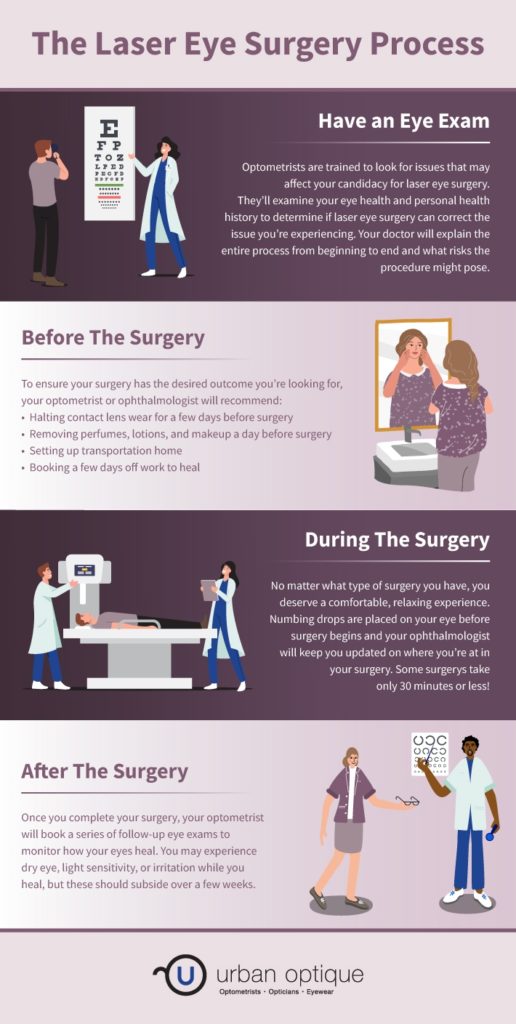 What Types of Laser Eye Surgeries Exist?
Laser eye surgery looks to permanently correct your vision from refractive errors and certain eye conditions.
The type of laser eye surgery you have can depend on several factors, including the issue you're experiencing, your age, your eye health, and even your lifestyle. Optometrists look at each factor during an eye exam to determine if your eyes are healthy enough for laser surgery.
Eye surgeons known as ophthalmologists perform the procedure while your optometrist generally co-manages the process from beginning to end. Your optometrist will book a series of follow-up appointments to monitor how your eyes are healing and manage any complications that may arise.
But before we look at the possible complications of laser eye surgery, it's time to take a look at the most common types of laser eye surgeries you might be recommended, including:
LASIK
Laser-assisted in situ keratomileusis (LASIK) eye surgery is arguably one of the most common laser eye procedures in Canada, and it's known for correcting nearsightedness, farsightedness, and astigmatism.
During this procedure, your ophthalmologist will numb your eyes with a special eye drop. After, they'll make a small incision in the outermost layer of your cornea, called the epithelium, to create a flap to fold over and access the underlying corneal tissue, called the corneal stroma.
Your ophthalmologist will then reshape the corneal stroma using a device known as an excimer laser. Reshaping this tissue should correct your refractive error. At the end of the procedure, the epithelium fold is placed back in its original position and left to heal for a few weeks.
PRK
Photorefractive keratectomy (PRK) is a type of laser eye surgery similar to LASIK, albeit with a small change. Instead of creating a flap from your epithelium at the beginning of the procedure, it's removed entirely to give your ophthalmologist access to the corneal stroma.
An excimer laser reshapes the corneal stroma, correcting your refractive error. Your eye naturally heals the epithelium layer over a few weeks. Again, your optometrist will book several follow-up appointments to monitor your healing and how your vision improves.
RLE
Refractive lens exchange (RLE) surgery is quite a different process from both LASIK and PRK surgery.
During this procedure, your ophthalmologist will make a small incision in your eye to help them access and remove your crystalline lens, which is located just behind your iris, and replace it with an artificial intraocular lens (IOL). The crystalline lens is responsible for focusing light on your retina and providing you with clear vision. However, an age-related issue known as presbyopia can make it harder for the lens to focus.
A similar procedure, known as cataract surgery, replaces a cataract lens with an IOL.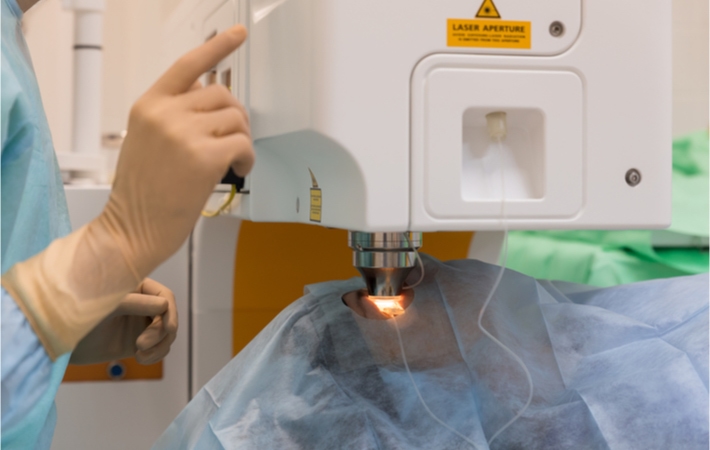 What Are The Risks?
You and your optometrist will have to consider several risks before you are deemed a candidate for laser eye surgery.
After your surgery, you may have to take eye drops regularly to maintain your eye comfort while your eyes heal. You may experience issues like dry eye and light glare immediately after the surgery, but these are normal side effects and should subside over a couple of weeks.
It's important to note that laser eye surgery doesn't guarantee 20/20 vision, and some people may still need to wear glasses or contacts to achieve crisp, clear vision.
However, there is a risk of developing a more serious complication, including:
Ectasia
Ectasia is a complication that may cause your cornea to thin over time. As the cornea thins, it may bulge a bit and cause a degree of astigmatism.
Specialty contact lenses could help manage ectasia symptoms, but you may have to have further surgery, like collagen corneal cross-linking, to treat advanced cases.
Infection
Every surgery runs the risk of causing some type of infection, but laser eye surgery has a very minimal chance of causing this issue.
However, you could run the risk of infection after your surgery. Make sure you follow your optometrist and ophthalmologist's instructions for taking care of your eyes and keep up with your follow-up eye exams.
Flap Problems
Because LASIK eye surgery creates a flap from the outermost layer of your cornea, your ophthalmologist needs to make this flap in a way so that it heals back in place. If it doesn't, it may develop wrinkles (known as striae) which could cause visual distortions and aberrations.
Under Corrections & Over Corrections
Under corrections and over corrections may develop if your ophthalmologist removes too much or too little tissue from your corneal stroma. These issues may also occur if your eyes don't heal as expected or if your eye "over-heals," which could affect the quality of your vision.
What Could Affect Your Candidacy for Laser Eye Surgery?
Not everyone is a suitable candidate for laser eye surgery. Several conditions may make the procedures unsuitable for your eyes and possibly increase the chance of developing one of the risks mentioned above.
During an eye exam, your optometrist will look for issues like:
Persistent dry eyes
Existing eye infections
Autoimmune disorders
Health conditions affecting your vision
Live an exceedingly active lifestyle
Eye Exams Are the Key to a Safe Procedure
Laser eye surgery is ultimately a safe procedure when you follow the necessary steps laid out by your trained optometrist or ophthalmologist.
If you're interested in what laser eye surgery can offer you, we'll be happy to examine your eyes and provide you with the information you need to make an informed decision.Even if laser eye surgery isn't a suitable procedure for you, there are many ways we can help you find the crisp, clear vision you deserve. All you have to do is request an appointment today!