Getting a new pair of glasses is an exciting experience for anyone! Between selecting frames and lenses, your new glasses will be something you spend a lot of time with over the upcoming months or even years.
If glasses were recommended to you during an eye exam, you may be curious to know what the initial effects of wearing them are. Since they're helping to correct your vision, your eyes and body may need some time to adjust to them as well.
We're going to cover how long it takes to adjust to new glasses, some of the symptoms you may experience while wearing a new pair, and how you can help to speed up the adjusting process.
Why Do New Glasses Cause Symptoms?
When you start wearing new lenses or frames, your eyes and brain need time to adjust to vision changes. Even though your vision may not have been perfect before your new pair of glasses, it will still take time for your brain to adjust to the clearer image your eyes are seeing.
During this adjustment period, the brain has to work harder to understand and create a clear picture. This is a natural part of the process. However, all of this extra work can create uncomfortable and irritating symptoms.
The symptoms of new glasses are normally mild and short-lived. If the symptoms continue for long periods of time, please contact your optometrist.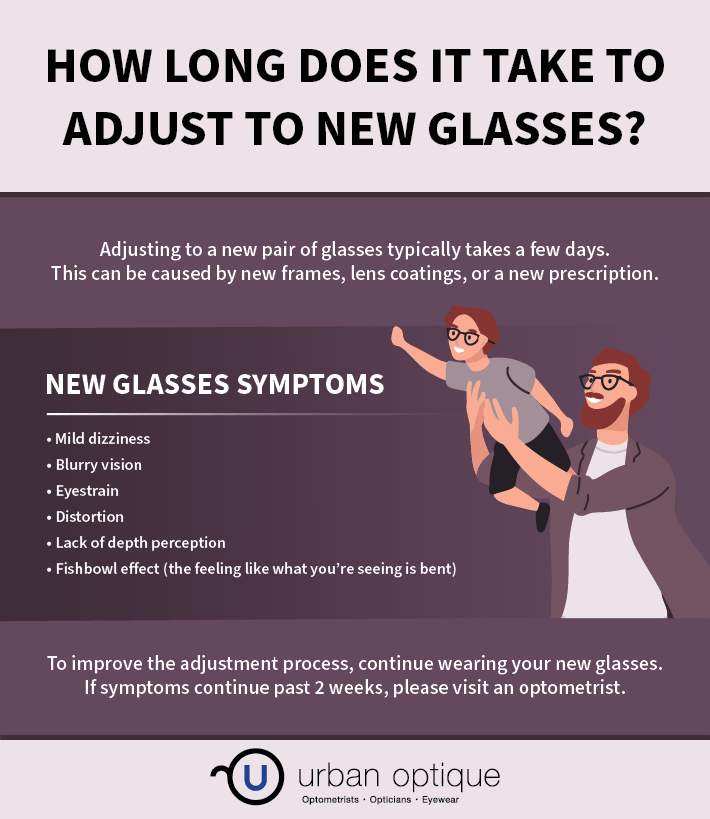 New Glasses Symptoms
Even though a new pair of glasses can help your vision become clearer, this difference is going to take some getting used to for your eyes and brain.
Most patients might expect to only experience symptoms when they receive a new prescription, but this is not the case. Even smaller changes such as a new lens coating or frame style can cause symptoms. This is caused by your eyes and brain being trained to see clearly through a certain structure for so long. Even the smallest changes on new glasses can cause symptoms.
The symptoms below are often only experienced mildly and not over extended periods of time. However, if these symptoms continue for more than a few days, please contact your optometrist.
Common symptoms from new glasses include:
Mild dizziness
Blurry vision
Eyestrain
Distortion
Lack of depth perception
Fishbowl effect (the feeling like what you're seeing is bent)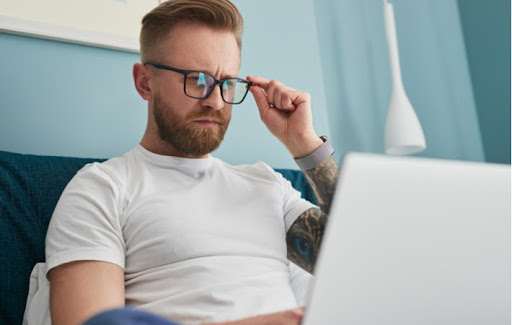 How Long Does It Take To Adjust to New Glasses?
Although every patient is different, adjusting to a new pair of glasses isn't a long process in most cases. Typically, it should only take a few days for your eyes and brain to adjust to the new set. However, in some cases, this process can take up to 2 weeks. It's important to be patient during this adjusting process.
When you start to wear a new pair of glasses, there are a few things you can do to help your eyes adjust properly and at a solid pace.
Improving Adjustment Process
If you're at all worried about the growing pains in the early stages of wearing a new pair of glasses, we can help put your mind at ease. Whether it's your first pair of glasses or your third, the most important thing you can do is to wear your glasses. It's that simple.
From the time you wake up in the morning to when you go to sleep at night, try and wear your glasses as much as possible. These long periods of time are helpful for your eyes and brain in adjusting to your now clearer vision.
If this isn't your first pair of glasses, it's important not to switch back to your older pair every once in a while. Even if the prescription is the same, this switching can confuse your eyes and increase the time it's going to take to adjust.
All in all, the adjustment period is a process. It's only natural for your eye and brain to take time and possibly experience symptoms. These are both signs that your new prescription, frames, or lens coating are working effectively and having a positive impact on your vision and eye health.
Get Excited About New Glasses
At Urban Optique, we believe everything about getting a new pair of glasses should be exciting! Every time we see a patient that needs glasses we take time to discuss our eyeglass frame and eyeglass lens options. Each patient's eyes are different and they all deserve a personalized approach.
Our team is dedicated to making every patient's eyewear experience an excellent one. If you're interested in learning more about our eyewear products or have any questions, please contact us or book an appointment today!