While contacts provide you with clear vision, the prescription can be a pain to refill. Taking time out of your day to visit your optometrist and pick up your lenses can be tedious. Like groceries, clothes, and other products, you can order contacts online, saving you the hassle of getting your prescription in person.
While the idea sounds great, should you buy contact lenses online? Continue reading to learn more about online contact lenses, including how you can order, considerations to make, the risks involved, and if you should make the purchase.
How Do You Buy Contacts Online?
You require an up-to-date prescription from your optometrist to buy contacts online. This rule is in place to protect your eye health. If you don't have an up-to-date prescription, you can't receive new contact lenses.
There are several online retailers for contacts. You can buy your lenses from any of these sites as long as your prescription is valid. Many contact prescriptions identify a specific type or brand of lens, and you should make your purchase from a website that stocks your specific lenses.
The price, financing options, and the number of contacts per box can vary depending on the online retailer you choose.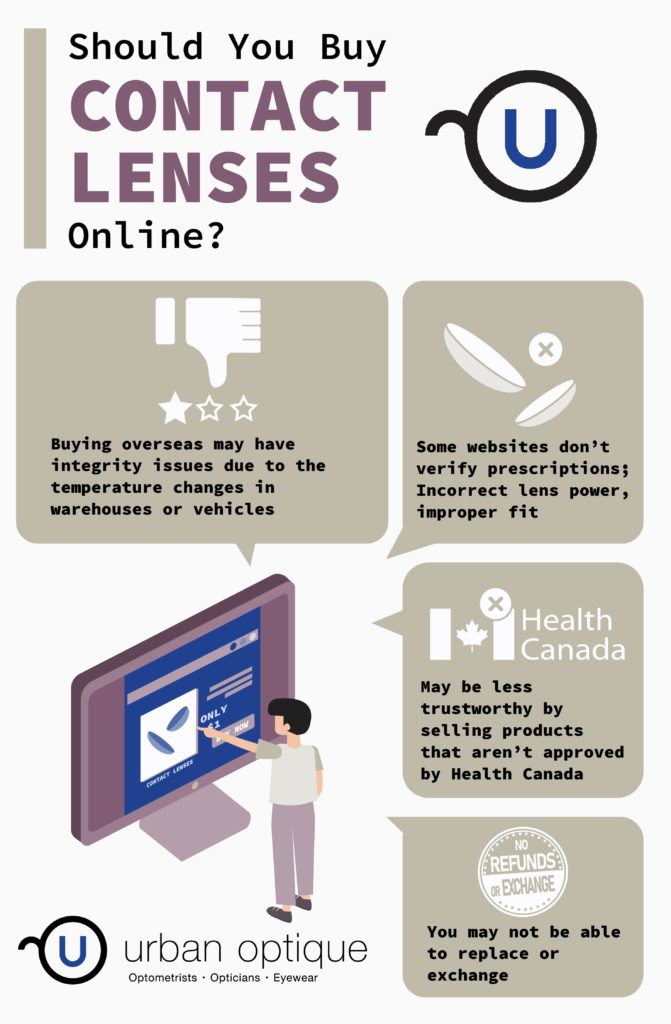 What to Consider When Buying Contacts Online
If you're looking to buy contact lenses online, what should you be looking for? Consider these factors before making any final decisions.
Price
The price of your lenses can depend on the brand and retailer site. Make sure to review the costs of lenses on different websites to find who fits your budget best.
Brand Reputation
Look at a retailer's reputation before committing your money. View their prices and reviews to see how they handle their business. Poor customer service and negative reviews can show if you should avoid a retailer.
Ordering Options
There are different ordering options for online contact lenses. Some retailers may need you to order by the box, while others offer subscriptions. These subscription rates can last for a month, 6 months, or a year.
These factors should guide your decision when choosing an online retailer for your contact lenses. Now that you know how to buy contacts, should you purchase your lenses online?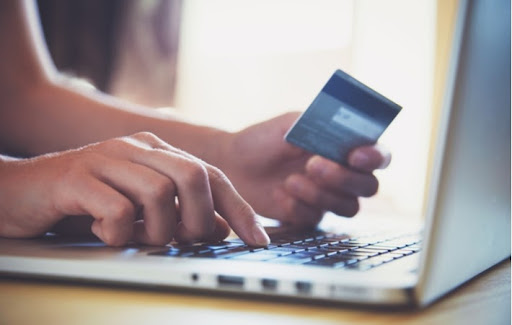 Should You Buy Contacts Online?
You can buy contacts online, but be aware of the risks.
Your lenses are more than a simple prescription; everything from material, curvature, fit, oxygen permeability, and lifespan cater to your unique needs. Online contact lenses may have the prescription you need, but they may not fit your eyes. There is nothing wrong with buying your contact lenses online, but there can be risks depending on the retailer you choose.
For the health and safety of your eyes, only use the eye care solutions your optometrist recommends. Many optometry clinics have online stores. You can get your contacts from a trusted source.
If you want to try ordering contacts from another online retailer, be aware of some of the risks involved.
The Risks of Ordering Contacts Online
When ordering contacts from an online retailer, there are several risks you should know. The Canadian Association of Optometrists highlights some of these risks:
Online stores may sell products that aren't approved by Health Canada, making them less trustworthy
Contacts from overseas may have integrity issues due to the temperature changes in warehouses or vehicles
Some websites don't verify prescriptions; the lens power may be incorrect, or the lenses may not fit properly
You may not be able to replace or exchange contact lenses with an online retailer
You can still order contact lenses online, but understand these risks to protect your vision as best as you can. Poor contact lens materials, designs, and fittings can harm your eyes. Getting your contact lenses from your optometrist ensures they are coming from a trustworthy source.
The Benefits of Seeing Your Optometrist for Contact Lenses
When you visit your optometrist for contact lenses, you're receiving:
The correct lens prescription, curvature, and modality based on your lifestyle needs
The correct measurements of your eye curvature, tear chemistry, and prescription
The professional monitoring of your contacts to ensure eye health, good vision, and comfortable wear
While visiting your optometrist for your contact lenses may seem like a hassle, effective and safe-to-wear contacts are worth it. If you're interested in online ordering, speak with your optometrist about if they have an online store or if you can find your prescription brand on another website.
Enjoy Clear Vision Today
Your contact lenses are essential for your vision, and you shouldn't sacrifice quality for convenience. Online retailers may ship contacts to your home, but the products may not be what your eyes need. When your lenses come from your optometrist, you can trust they'll provide a comfortable fit and clear vision. While you should choose quality over convenience, you may be able to get both. Ask your optometrist about the online ordering options available for your prescription. If you need contact lenses, order through your optometrist's online store or contact their office.