If you're ready to see how contact lenses could help you achieve crisp, clear vision, that's great! Contacts are a fantastic way to correct your vision without worrying about breaking or losing your eyeglasses, especially if you're playing sports, exercising, or looking to switch up your look for a night on the town.
But wearing contact lenses comes with its own unique set of responsibilities; responsibilities our team at Urban Optique will be happy to walk you through when you visit us for a contact lens exam and fitting. 1 of the most important responsibilities of contact lenses, though, is keeping them clean.
Dirty contact lenses aren't just uncomfortable; they can also increase the risk of conditions and infections that could permanently affect your sight!
Today, we will go over what you need to do to keep your contact lenses clean, how you can reduce the risk of complications, and the symptoms you might experience if your contacts are dirty.
If you're already experiencing problems with your contact lenses, please remove them immediately and give our team a call. We'll be happy to help you find relief from your symptoms when you come in for an appointment.
Cleaning Your Contacts
Let's start with how to clean your contact lenses properly.
When we prescribe contact lenses, we'll provide you with comprehensive cleaning instructions and some products you may use to keep your contacts clean and eyes comfortable. However, if it's been a while since you've visited us for an appointment, these tips will be a helpful refresher.
What Do You Need?
When it's time to clean your contact lenses, make sure you have:
Contact lens solution (as recommended by our team)
A sink
A contact lens case
Eye drops
Extra pairs of contacts (in case you damage them while cleaning)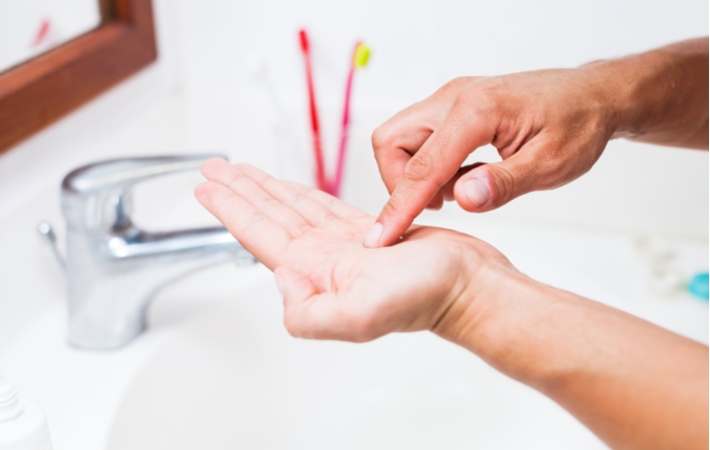 What Are The Steps?
Now that you have everything you need, let's start cleaning your contact lenses:
Begin by washing your hands thoroughly with soap and water. Remember to dry your hands with a lint-free towel or cloth.
Clean your contact lens' case with solution and a lint-free cloth. Let it dry.
Carefully remove your contact lenses 1 at a time. Only clean 1 contact at a time, placing them in the case when you're finished.
Place your contact lens in your palm and soak them in their cleaning solution. Never clean your contacts with tap water or saliva!
Gently rub the contact lens in your palm with a finger to clean them. Please do not use your fingernail because it can damage the lens.
Rinse the contact lens again with the solution.
Fill your contact lens case with the lens solution and place the lens inside the case. Never use old lens solution when you're storing your contacts.
When you wear your contacts again, you may use eye drops to help keep the lenses comfortable and hydrated.
Do All Contacts Need to Be Cleaned?
All contacts need to be cleaned regularly. However, how often you need to clean them may vary depending on the type of contact lens you're wearing. If you're unsure how often you need to clean your contacts, please speak with our team so you can get help avoiding old contact lenses.
Daily Contact Lenses
Daily contact lenses need daily cleanings. If you're wearing daily disposable contact lenses, please discard them after use.
Some daily contact lenses can be worn for a few weeks at a time, but only if you clean and store them properly. Do not sleep while wearing your daily wear contact lenses.
Extended Wear Contact Lenses
You might be able to wear extended wear contact lenses for up to 30 days, but we may recommend cleaning these lenses multiple times a month to help reduce the risk of contracting an eye infection or experiencing discomfort.
We recommend cleaning them at least once every 7 days.
What Happens if You Don't Clean Your Contacts?
Cleaning your contacts is an essential part of wearing them, not because it helps keep them comfortable, but because cleaning reduces the risk of developing issues like keratitis.
Keratitis is a type of eye infection that affects your cornea. It can occur if bacteria accumulates on your contact lenses for a long period of time, but it can also develop due to chemical exposure or even injury to the eye.
Some of the most common symptoms include:
Redness
Irritation
Blurry vision
Wateriness
Eye pain or discomfort
Light sensitivity
Eye discharge
If you notice any of these symptoms, please remove your contacts and give our team a call immediately. We may be able to treat keratitis with antibacterial eye drops. In some cases, we may prescribe a different pair of contacts or provide a different contact lens solution.
What Else Do You Need to Know?
As much as contact lenses are easy to use and wear, it's essential to take proper care of them. While cleanings are important, there are a few more tips you should consider before you start wearing contact lenses carefully:
Keep the tip of your lens solution bottle clean and don't let it touch other surfaces, even skin. Bacteria can accumulate on the tip, compromising the cleanliness of your contact lenses.
Never use tap water to clean your contact lenses or their accessories.
Please discard any extended wear contacts after 3 months of use.
Clean your contacts every time you remove them.
Only store your contacts in their proper case.
Only use products our doctors recommend. Switching contact lens solutions or contact lens brands can affect your eye comfort or increase the risk of infection.
Make sure you have regular eye exams to ensure your contacts maintain their comfort and clarity.
If you're ever unsure about taking care of your contact lenses, the team at Urban Optique is always ready to help. Please don't hesitate to give us a call or book an appointment so you can ask questions or even get your very first prescription.