Sunglasses are a fantastic way to protect yourself from harmful UV rays. You can get regular tinted lenses that help prevent UV damage. Polarized sunglasses are slightly different from regular ones and have added benefits. You can even get polarized lenses in your prescription to help you see better in bright situations with a lot of glare.
When it comes to your eyewear, it's usually best to talk to your eye doctor before making any decisions. Knowing how polarized lenses work, how they can protect your eyes, and where you can get high-quality ones will help you be prepared for when you consult your eye doctor.
Polarized Lenses Explained
Your regular sunglasses are great for blocking sunlight in most situations. They're designed to reduce harmful impact from UV rays and dim harsh sunlight by blocking intense glare from sunlight bouncing off shiny surfaces.
Why should you want to block glare? Well, too much glare can leave you squinting and straining your eyes, leading to painful headaches. Glare can also be dangerous in some situations, like when you're driving.
The term "polarized" refers to how your eyes see different light waves. When light travels through space, it vibrates in a specific direction in relation to a flat surface. Light can then bounce off shiny surfaces like water or glass, causing reflection, refraction, and glare. This glare can be dangerous, especially when you're driving. In some cases, it can cause eye damage.
If you use polarized sunglasses, you'll notice you can see below water surfaces in most cases. Polarized lenses are coated in a special chemical that stops horizontal light rays from breaking through. Only vertical light rays make it past the lens, reducing glare.
How Polarized Sunglasses Protect Your Eyes
In some cases, sun exposure can cause damage to your eyes. This damage is most often temporary, lasting anywhere between a couple of days to a week.
Light enters your eye through your cornea, the transparent, round outer layer of the eye. UV rays can damage your cornea if you aren't protected. UV rays come in three types:
UV-A rays are the least intense and typically don't cause as much damage
UV-B rays are more intense and can cause some damage if you aren't protected
UV-C rays from the sun don't reach the earth's surface and aren't harmful to you
Sunglasses protect your eyes from harmful UV rays. However, non-polarized sunglasses don't protect against glare, leaving your eyes vulnerable.
It's important to remember UV rays can impact your vision by causing diseases and conditions such as:
Photokeratitis: a painful condition affecting your cornea, often compared to a sunburn
Cataracts: cause blurred vision when your eye's lens becomes cloudy
Macular degeneration: caused by thinning macula, part of your retina
Pinguecula: a yellowish growth on the white of your eye made of protein, fat, or calcium
Pterygia: a raised, wedge-shaped growth that can extend into the cornea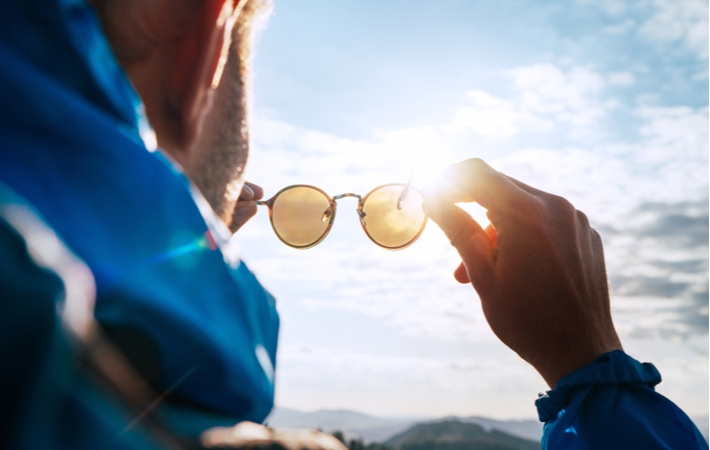 Who Should Use Polarized Sunglasses?
Anybody who wants to protect their eyes from harmful UV rays can use polarized sunglasses. Polarized sunglasses are great for people who enjoy outdoor activities like hiking, fishing, and in some situations where there is a lot of snow.
Polarized sunglasses are handy for driving as well. The reduced glare makes it easier to see, especially in low-light situations like sunrise and sunset. They also increase clarity and reduce eye strain by making your surroundings appear more contrasted.
Polarized sunglasses aren't necessarily better than non-polarized ones. If you spend time outside or behind a car, you might want to consider the benefits of polarized sunglasses. If you only use your shades occasionally, non-polarized ones should suit you and your needs. Choosing polarized sunglasses is all about your preference and how you plan to use them.
When Should You Not Use Polarized Sunglasses?
There are some times when you might want to avoid using polarized sunglasses. These situations are where seeing glare is useful. For example, you need to avoid black ice on icy roads during the winter months. If you use polarized glasses, you won't see the glare.
Polarized sunglasses also make screen use difficult since the LCD light from the screen appears blurry or distorted.
Where to Get Polarized Sunglasses
Non-prescription polarized sunglasses are available from many different retailers. However, your eye doctor can get you a prescription for polarized sunglasses to benefit from polarization and vision-correcting lenses. If you're looking for sunglasses in Calgary, consider visiting Urban Optique in Market Mall. We've got a wide selection of high-quality brands, so you look stylish while taking on the world with your new polarized lenses.