You should attend a comprehensive eye exam every 1 to 2 years at least. Ensuring your eyes are healthy helps you go through each day with confidence.
We may not always think of our eyes, but it's impossible to ignore our eyes when something isn't quite right. Going to see your optometrist every year is the most effective way to prevent eye issues from arising.
1) You Can't Remember Your Last Eye Exam
Generally, it's recommended to schedule and attend an eye exam once a year. But sometimes life can get in the way and regular eye exams can slip through the cracks.
Don't worry—forgetting to get an eye exam isn't the end of the world. That being said, you should book a comprehensive eye exam as soon as you can. Attending an annual eye exam helps ensure your eyes are healthy, your prescription is up to date, and gives you the opportunity to bring up any questions or concerns you may have about your vision.
2) Your Vision is Different
Not being able to see clearly makes living your daily life unnecessarily difficult.
You might struggle to enjoy your hobbies, be efficient at work, or feel comfortable behind the wheel. Any changes in your vision should be addressed with your optometrist as soon as possible. Your vision can change for many reasons.
If you're under 25 or over 40 years of age, you may need a prescription update. Our prescription can change until we're about 25 years old, then again after we turn 40 years old. Ensuring you've got the right prescription will help you see clearly and prevent unnecessary strain on your eyes.
Seeing floaters, spots, flashes, or halos around lights could be a sign of an astigmatism or presbyopia. These conditions can usually be fixed with an updated prescription and shouldn't be cause for concern.
However, if you see a lot of floaters or spots in your vision, it could be a sign of something more serious, like a detached retina. A cloud of floaters or spots of any kind in your vision can indicate a medical emergency.
If you experience double vision, intense light sensitivity, or sudden blurry vision, it could also indicate a more serious underlying health issue. It's best to see a doctor right away. If you can't book in with your optometrist, go to the emergency room.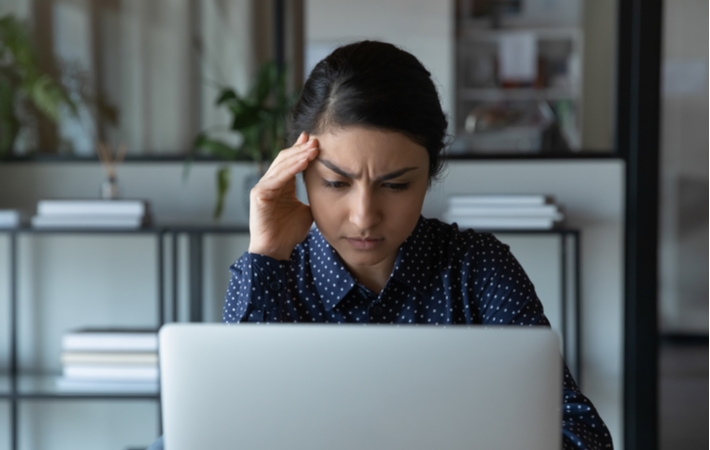 3) You Get Headaches More Frequently
Headaches aren't always linked to issues with your eyes, but it's not uncommon for optometrists to diagnose the cause of chronic headaches first.
Frequent headaches, especially around your eyes, could be a sign you're straining your eyes too much. You may need to lower your prescription or use reading glasses. Sometimes, headaches can be a sign of something more serious.
Book in with your optometrist as soon as you can—there's no reason to continue to suffer when your optometrist can help.
4) Your Eyes are Dry & Itchy
Most people spend a lot of their time staring at a screen during the day. From work, communicating with friends and family, and watching TV, screen time is a normal part of life.
Staring at a screen for too long can cause your eyes to feel dry or irritated. You might want to discuss options for eye drops with your optometrist to keep your eyes hydrated. But you shouldn't have to struggle with dry, itchy eyes all the time.
Eye strain, some medications, and environmental factors can all make our eyes feel dry and itchy. However, if your eyes feel irritated constantly, it could be a sign of dry eye. Dry eye is often part of the natural aging process.
You may have dry eye if:
Your vision is blurry
You're sensitive to light
You have red/watery eyes
You experience eye fatigue
You have difficulty driving at night
You have difficulty wearing contact lenses
You feel a stinging/burning sensation in your eyes
You notice stringy mucus appear in/around your eyes
There are many treatments to help manage dry eye, so contact your optometrist if you experience any of these symptoms. Dry eye can cause more serious problems if left untreated for a long time.
5) You Have a Medical Condition
There are medical conditions that can affect your eyes, such as diabetes, thyroid conditions, high blood pressure, and more.
Usually, an annual eye exam is enough to ensure your eyes are healthy. However, with certain medical conditions, your optometrist may ask you to schedule additional appointments during the year. Your eye health is best protected by prevention, which means booking in regularly with your eye doctor.
One Last Sign
You can go to the optometrist if you have any questions or concerns about your eye health. You should go to your optometrist, or the doctor, if you experience trauma to your eyes, vision changes, or painful symptoms of any kind. Book your next eye exam with our team today because there's no need to wait any longer.