LEDs have changed the world. They are cost-effective and environmentally friendly, while also providing better light for longer periods of time. The technological and financial benefits of LEDs are undeniable, but how do these LEDs impact your eyes?
What Is an LED Light?
Light-emitting diodes (LEDs) are efficient lighting products that are used in many capacities. In fact, you probably have LED lights at home or work, and definitely in your smartphone. LEDs are up to 90% more efficient than incandescent bulbs and are a popular lighting choice both for the positive environmental impact and cost reduction.
While there is a lot to celebrate with LEDs, it's important to understand the impact they have on our eyes.
How do LED Lights Affect Your Eyes?
While there is still some debate on how LEDs truly affect our eyes, studies have shown that prolonged exposure can be risky. LED lights work differently than other light sources which means the impact on your eyes is completely unique. A 2019 study conducted by ANSES confirmed that blue light from LEDs can be toxic to our retinas.
But what does this actually mean?
What is Blue Light?
Blue light LEDs were invented in the early 1990's, which allowed LEDs to become as popular and universally used as they are today. White light is created by covering the blue light with a layer of yellow phosphorus and it's in our light bulbs, devices, street lamps, and vehicles. Additional research has dramatically improved the performance of LEDs, allowing LEDs to overtake the lighting market.
The science behind blue light toxicity is based on the wavelength and energy emitted. Every colour is unique, but blue in particular has shorter wavelengths and a higher energy level than other colours. This difference has been linked to potential eye damage, but it's important to note that research is still being conducted on this subject.
What is certain is that blue light LEDs are used in most of our devices, including smartphones, TVs, and tablets. It's important to be aware of the research and the potential impact blue light can have on your eyes.
Blue Light & Retina Damage
Most blue light reaches the back of our retinas directly.
Some studies show blue light can cause retina damage because of this. This is called phototoxicity and its impact completely depends on the length of exposure and intensity of light. These LEDs are linked to digital eye strain, dry or irritable eyes, and blurred vision. You may have experienced some of these symptoms after staring at your computer screen all day.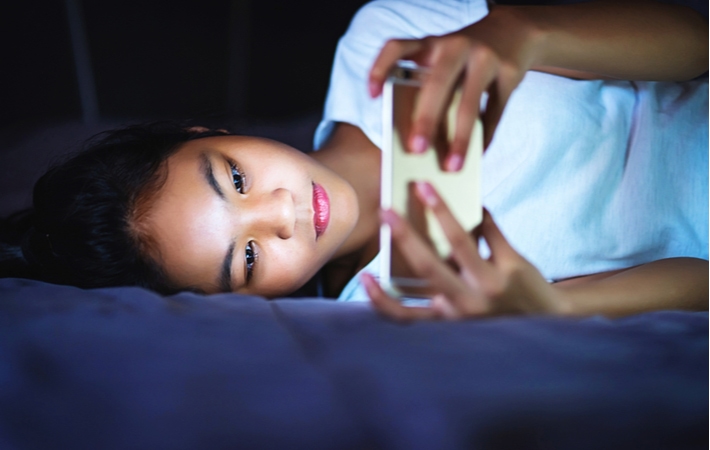 Blue Light & Sleep
This isn't a new concept and you've likely been told by your optometrist to limit screen time at night.
Blue light can negatively impact our biological rhythms and sleeping patterns. While this light is important to have during the day, it's equally important to maintain a balance at night. Too much blue light can disrupt your circadian rhythm. Even low levels of blue light before bed can cause sleep issues and leave you feeling tired the next day.
Age-Related Macular Degeneration
A long-term concern for prolonged blue light exposure is a potential risk of age-related macular degeneration (AMD). AMD is a disease affecting central vision and is typically related to the aging of our eyes. While there isn't a cure, treatments exist to slow the progression of AMD.
Blue light could potentially trigger the release of toxic molecules in our photoreceptor cells, causing damage that can lead to AMD. That being said, sufficient research is still required to understand the full impact of blue light on the development of AMD.
How to Keep Healthy Eyes
Before you start lighting candles and smashing your screens, there's no need to panic. Understanding how LEDs can affect your eyes is the first step in practicing safe and healthy habits.
Use 20-20-20 Rule
The 20-20-20 rule is a great tool for preventing blue light damage and digital eye strain. You should look 20 feet away every 20 minutes for at least 20 seconds. This allows your eyes to take a much-needed break from the harsh light of our devices.
Blue Light Eyewear
You may have heard of blue light glasses before, and these can be a good option for protecting our eyes from powerful LEDs. Blue light glasses and treated lenses use films or filters to block blue light from reaching the eye, but the quality and effectiveness of individual products can vary heavily. Due to a lack of regulation around current standards for blue light eyewear, it's best to discuss options with your optometrist.
Regular Eye Exams
The most preferred method of keeping your eyes healthy is by booking and attending regular eye exams. You should see your optometrist at least once every year to ensure your eyes are healthy.
If you experience any changes in your vision, contact your optometrist as soon as you can. Being vigilant about your eye health will help keep your vision strong for years to come! Request an appointment with our team of professionals to discuss the best options for protecting your eyes against blue light today.