Absolutely!
In fact, exercising while wearing contact lenses is much easier and more enjoyable. Contact lenses provide many benefits, especially regarding your mobility and vision. It's completely safe to exercise while wearing your contacts.
Will Exercise Cause My Contacts to Slide on My Eyes?
No—certainly no more than your regular day-to-day activities.
You may have heard the odd story of a contact lens slipping beneath someone's eyelid or "behind" their eye. Let's be clear: your contacts can't get stuck behind your eye.
Contacts can slip beneath your eyelid if you rub your eyes too much. If this does happen to you, don't worry. A little patience and maneuvering will have your lens back where it belongs in no time.
Benefits of Contacts While Exercising
Many people actually prefer to wear contact lenses while they exercise.
Contacts offer a higher degree of convenience and comfort for physical activity. Unlike glasses, contact lenses won't fall or slip while you workout. You also don't have to worry about your contacts fogging up if you're sweating.
When it comes to sports, contact lenses are a safer option. While you may not notice it, your glasses limit your peripheral vision. Being able to see the entire visual field is another huge benefit to wearing contacts while working out or playing sports.
Contacts also allow you to wear proper safety equipment depending on the sport you're playing. If you take a fall or a hit, there's always a risk that your glasses could break and cause injury. Not to mention the fact that replacing broken glasses can be quite expensive.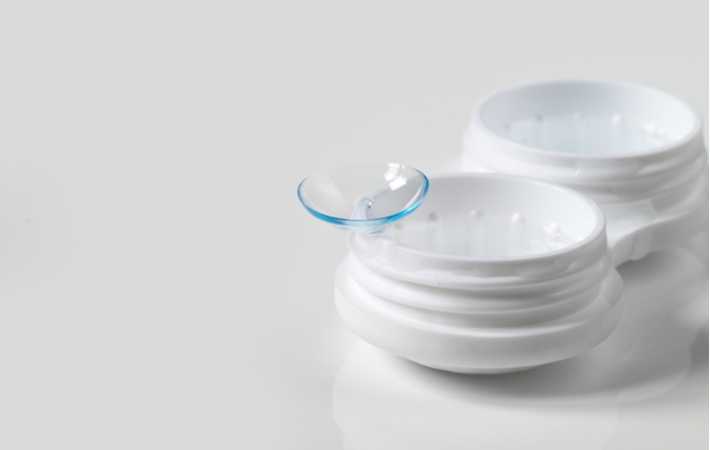 Best Types of Contacts for Exercise
Daily Disposable Contact Lenses
Daily disposable contact lenses are a great option for active people. These contacts are single-use—once you remove these lenses, you simply throw them out. These are a great option for active people because they are flexible and easy to manage.
Weekly & Monthly Lenses
Weekly and monthly contact lenses last longer than daily disposable contacts, but require a bit more care. There are many different types of contacts and most brands offer a variety of timelines. Daily, weekly, and monthly contacts provide the same quality, but offer options for preference of use and care.
Rigid Gas Permeable Lenses
Rigid Gas Permeable (RGP) contact lenses allow more oxygen to pass to the eye and are available in daily and extended wear options. These contacts are much more durable and easier to care for than soft contact lenses. However, due to the harder materials used to manufacture the lenses, it can take some time to adjust your eyes.
These can be a good option for lighter exercise, but not necessarily for sports.
Eye Care & Exercise
While it's perfectly safe to exercise with your contact lenses, it's still important to practice proper contact lens care.
You should carry eye drops for your contacts to remedy any dryness in your lenses. Contacts dry out as the day goes on, so if you're wearing your contacts from morning to night, it's best to keep eye drops with you to manage any dryness. If you use weekly, monthly, or extended use contact lenses, ensure you store them in fresh solution each time you take them out.
Can I Get My Contacts Wet?
Water can carry bacteria that are harmful to your eyes.
Cleaning your contacts should only be done with contact lens solution, especially if you don't wear daily disposable lenses. If you get water in your eyes while wearing your contacts, use eye drops to flush the water out.
Swimming with Contacts
When swimming with your contacts, goggles are a great solution to prevent water from entering your eye. Bring eye drops with you in case water gets into your eye. Water in the eye is no reason to panic or remove your contacts, but being prepared with drops will prevent possible infection.
Ask your optometrist about prescription swim goggles as an alternative to contact lenses for swimming.
Sweating in Contacts
Like most fluids, sweat can carry bacteria that's harmful to your eyes. It's likely that you'll get sweat in your eyes during physical activity. Similarly with swimming, this is no reason to panic. Use eye drops to flush the sweat out of your eyes and keep your contacts hydrated.
If your contacts are frequently exposed to fluids, such as water and sweat, and you have concerns about your eye health, contact your optometrist.
Other Sport Eyewear
Sports glasses are a great alternative if you're looking for something that offers great vision and durability.
Contact lenses are not always a viable option, whether it's due to preference or medical limitations. Some eyewear brands offer sports glasses that are specifically designed for athletes and active people. There are a variety of glasses available with different features based on what you want, such as:
Head strap to keep glasses on your face
Built-in UV protection
Impact and/or scratch-resistant lenses
Padding under the frames
Anti-fog lenses
Whether you're looking for contacts, glasses, or general advice about available options for exercise and sports, it's best to contact your optometrist to find the right fit for you.