If you're having trouble reading or seeing objects up close, it could be a sign that your eyes need some help. Sometimes your eyesight changes as a completely normal part of aging and shouldn't be something to necessarily worry about.
If you notice that your near vision is starting to get worse, book an appointment with your eye doctor. During an eye exam, your optometrist can determine what's causing your vision issue and help you get the treatment you need.
In some cases, your optometrist may recommend progressive lenses to help you get back to seeing your best. But what are progressive lenses? Who are they for? And how can you tell if they're fitted correctly? Keep reading for all the answers to these questions.
Who Can Benefit From Progressive Lenses?
Progressive lenses can be helpful to almost anyone with a vision problem, but they're most commonly needed by people over the age of 40, who are having more difficulty focusing on nearby objects as they age. Progressive lenses can also be useful for children with myopia, or nearsightedness.
Even though progressive lenses can allow you to see near and far objects with more clarity, these lenses aren't the right choice for everyone. The best way to know if progressive lenses are the right choice for you is by getting properly fitted by a professional and wearing them for a trial period. During this trial period, you can see how well your eyes adjust to them.
What Are Progressive Lenses?
Progressive lenses are a type of multifocal lens designed to make it easy for people to transition between focusing on distant and close-up objects. Bifocal lenses offer the same vision correction, but they have what's called a "bifocal" line which is an observable line where the two focus areas differ.
There are three sections in progressive lenses that can help you see clearly at multiple distances without a bifocal line:
The upper section provides the strength you need to see clearly in the distance
The lower section provides the strength you need to see clearly up close
The middle section helps you see clearly at intermediate or middle distances
These three sections provide a gradual transition in strength from top to bottom, so you can see at any distance.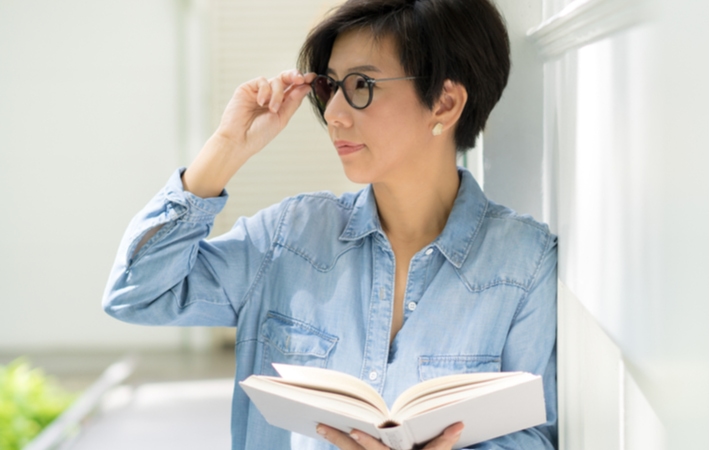 The Pros & Cons of Progressive Lenses
There are many benefits of progressive lenses, including:
You only need one pair of glasses to see at varying distances, meaning you no longer have to swap between your reading glasses and your regular glasses
Progressive lenses offer a smooth transition between distances, providing you with a more natural sense of vision
They look exactly like regular glasses and can fit into a variety of different frames
While progressive lenses boast an array of benefits, they can be a little difficult to adjust to. When you first try progressive lenses, it may take a little time to get used to how they work, and you'll need to train yourself to look in certain places to get the right correction.
During the learning period, you may get a little dizzy or experience some vision distortion from looking through the wrong section of the lens, but your optometrist can give you some tips to make this adjustment period easier.
While this may sound a bit daunting, most people get used to their progressive lenses within two weeks and are back to seeing clearly in no time!
Tips for Adjusting to Progressive Lenses
If you decide to try progressive lenses, you can use follow these tips to get used to them:
Give yourself time to adjust. Most people will get used to progressive lenses within two weeks, but it can take as long as a month
Follow your eye doctor's instructions on how to use them
Stop wearing any other glasses you own & wear your new lenses as often as possible
How Can I Tell If My Progressive Lenses Are Correct?
If you're having issues adjusting to your progressive lenses, it may be because they're fitted incorrectly.
The number one way to tell if your new lenses are correct is to assess your focusing ability when you're in a natural posture. You should be able to maintain a natural posture in your neck and see sharpness when reading or while focusing on the distance. If you need to raise your chin really high while reading or hold it really low to see in the distance something is not correct.
If you think your lenses aren't correct, it's important to get them properly fitted by your optometrist or optician so you can get back to seeing clearly!
Get Started With Progressive Lenses Today
At Urban Optique, we carry a range of lenses so that you can experience better vision, no matter what your needs are.
While progressive lenses can be great for people with all sorts of vision issues, the best way to know if they're right for you is by visiting your optometrist. We can help you decide if progressive lenses are an appropriate treatment, ensure they're the proper fit, and give you more tips for adjusting to them!
Book an appointment with us today to see how we can enhance your vision!