We hear people talk about 20/20 vision all the time, but what does it actually mean?
If someone has 20/20 vision, it means that they have normal visual acuity or that they can see an image clearly from 20 feet away. Visual acuity is the most common measurement optometrists perform during an eye exam to measure how well your eyes function. This test measures the clearness or sharpness of your vision when it's measured at a distance of 20 feet. ‌
Now that you know what 20/20 vision is, you may be wondering why it matters. At Urban Optique, we're here to help you understand why visual acuity is important, how it's tested, and what you can do if you don't have 20/20 vision. Keep reading to learn more!
Why Is Visual Acuity Important to Measure?
Visual acuity is the easiest way for your optometrist to understand your visual function.
During an eye exam, your optometrist will perform a variety of tests to assess your vision, eye health, and overall health. A visual acuity test can help your optometrist by measuring:
Central corneal clarity
Central lens clarity
Central macular function
Optic nerve conduction
While having 20/20 vision doesn't mean that your eyesight is perfect, it can help your optometrist measure the sharpness of your vision. This can help them determine if you're suffering from any eye conditions, or if you require treatment such as eyeglasses or contacts. Early detection and treatment of these problems can prevent any issues from getting worse.‌
In addition to measuring your visual acuity, your optometrist will test the strength of your vision by measuring your eye coordination, depth perception, peripheral awareness, focusing ability, and colour vision.
How Is Visual Acuity Measured?
During a visual acuity test, your optometrist will examine how well you can describe the details of a letter, picture, or symbol from different distances.
The two types of visual acuity exams
There are two types of visual acuity tests that are commonly used.
The Snellen ‌Test
The Snellen test is the classic eye test that uses a chart that contains letters or symbols that get progressively smaller as you move down the chart.‌
To measure visual acuity, your optometrist will ask you to stand 20 feet from the chart and read out the letters while covering one eye at a time.
The ‌Random E Test
The random E test is an alternative that can be used if the patient has difficulty identifying the letters on a Snellen test. In the random E test, the capital letter E is used in place of other letters and is either facing up, down, to the left, or to the right. The patient is then asked to identify the direction the letter is facing.
Understanding the Results
When you've completed a visual acuity test, your results will be a fraction.
The top number refers to the distance you were standing from the chart during your test, which in most cases will be 20 feet. The bottom number refers to the distance an average person with normal eyesight could read the same line that you read.
For example, if your results read 20/10, it means that while you could see clearly at a distance of 20 feet from the chart, the typical person could read the line of the chart with the same clarity from a distance of 10 feet.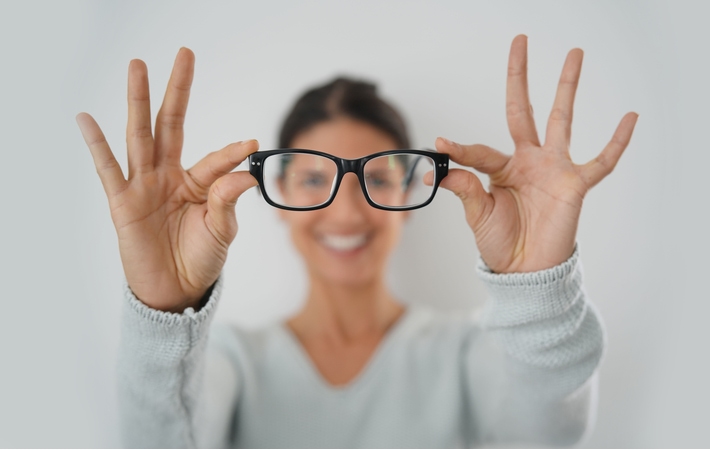 Why Do Some People Have Less Than 20/20 vision?
There could be a variety of reasons why someone has less than 20/20 vision. Vision conditions, like nearsightedness, farsightedness, or astigmatism can affect visual acuity, as well as a range of eye diseases.
If your optometrist finds that your visual acuity is atypical, they will perform additional tests to understand why before getting you started on a treatment plan.
What If I Don't Have 20/20 Vision?
If your visual acuity isn't 20/20, your optometrist can help. During a comprehensive eye exam, they can diagnose what is affecting your ability to see well.
Depending on what's causing your visual acuity to be less than 20/20, your optometrist may recommend contact lenses, eyeglasses, or laser eye surgery.
There may also be an underlying eye condition affecting your vision. Your optometrist can discuss any treatment or correction that might be necessary, whether it be medication, laser eye surgery, vision therapy, or another treatment.
The Importance of Eye Exams
Eye exams are an essential part of keeping not only your eyes but your entire body healthy. During an eye exam, your optometrist can notice things you may not notice on your own and can help you get quick treatment before more damage is done. At Urban Optique, we can test your visual acuity and help you identify issues early on, so your vision is the best it can be. If you have any questions about your vision, please don't hesitate to contact us! Our team is always here to help you!