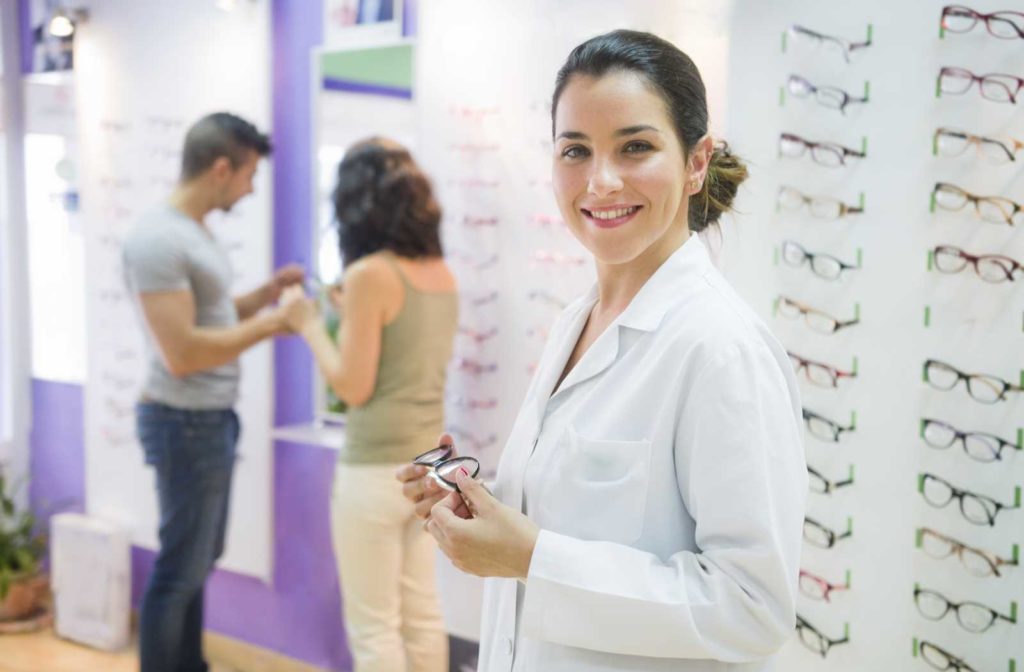 Getting your first pair of glasses can be exciting for everyone involved, but it can leave you with a lot of questions about choosing the pair that's right for your child. We understand the dilemmas intimately, but our eye care professionals have a lot of experience matching patients with corrective lens wear.
We get a lot of folks bringing their children in for scheduled eye exams. From there, we get an idea of what most parents and children are looking for in prescribed corrective lenses.
Your child might be getting their first pair of glasses, so it might not be clear what options there are for frames and lenses. The most important part is the corrective lens since it stands the risk of scratches. But children and adults behave differently, so your child will need frames that suit their rough and tumble lifestyle. Wise frame choice can protect the delicate lenses for them.
How Do I Know If My Child Needs Glasses?
The Canadian Optometry Association recommends on-schedule eye exams annually, for children ages 6-19. They also maintain that infants need a first eye exam between the ages of 6 and 9 months, a second one more between the ages of 2 and 5.
If they need corrective vision care before the age of 5, you'll naturally have to consider different materials than if they get their first pair of glasses in elementary school. And if your child's eyesight is changing every year, a new set of frames, as well as lenses, will keep the fit needed for comfortable wear.
What Kids Need in Glasses Frames
Frame Fit
Frames need to be fitted by an experienced optician. Opticians are professionals who prepare and fit glasses to those given a prescription, so they have experience adjusting frames to achieve a snug but non-constricting fit in each type of optometry patient. Children have small and flat nose bridges than adults, impacting what frames to start with and how to work on them.
Solid nose bridge rests that are part of the frame will slip on a child's smaller nose, so it's best to give children models with adjustable nose pads. The glasses' weight mostly rests on the nose, so it'll need to be stably adjusted to sit high for most kids' facial shapes.
Children's skin can be sensitive, so those same frame types lacking adjustable pads? They might come with too much skin contact — especially if their skin is sensitive to metals.
A rough and tumble lifestyle means you can expect a lot of stress on the frames as a child's pair of glasses gets knocked off or stepped on. Also, children's head size may change some years and less so in others as they grow from babies to small children to preteens and teenagers.
How to Look For Frame Fit
The delivery of the new glasses is an exciting time for your child. Make sure the fit still holds. The frame should be level and properly positioned. The frames you choose should not slip out of position with head movements, and there shouldn't be noticeable red marks on the nose or behind the ears after a few hours of wear.
Your Choice of Frame Materials
Children's frames can be chosen according to their age and behaviour. There are lots of materials to choose from when it comes to frames, and each has its pros and cons.
Metal Frames
Other frame materials like beryllium and monel alloy have strength, chemical resistance, and flexibility, but they could present some issues for kids with metal sensitivities. They're probably better for some adults.
Plastic Frames
Deciding on a Frame Material
One factor to consider from the choices above is the expense. Deciding on a budget for glasses might require some thought about how much damage or loss you can expect. As mentioned, children have accidents during play, and things break, so you might need a sturdy pair.
On the other hand, losing a durable but expensive pair will set you back more than repairs to broken frames. While you have to be strategic about choosing, you could always buy two pairs. Your child could use one that's strong and flexible for play, and another that's comfortable and form-fitting for reading or quality time.
Good Habits for Long Lasting Glasses
You can take advantage of the natural excitement your child will have at the novelty of their glasses. They'll have a cool new thing to wear, and their vision will be clear. But they might need getting used to wearing them all the time, as well as training on how to preserve the lenses.
They'll need to be shown how to set them down properly, without the lenses in contact with the ground. And if the lens coating has a special coating, they'll need to know what you can and can't use to clean them once they take them off for the night.
Getting Used to New Glasses
Children can sometimes lose personal belongings. In the first two weeks of your child getting used to wearing glasses, they may take their glasses off and leave them somewhere — perhaps out of discomfort.
It might be best to train your child to wear them around the house at first, teaching them not to remove glasses gradually. You should let your child's teacher know about them so your child won't misplace them momentarily or take them off for a long time.
Your child's new glasses will feel like a much-needed relief from the vision problems they had before, and before long, the frames will seem like a part of their face that's always been there! Each year, you can decide on what worked and what didn't when you consider newer frames.