Cataracts are one of the most common eye conditions people can develop as they age. They're so common, in fact, that some researchers suggest they are among the leading causes of blindness in the country.
But how will you know you're developing cataracts? Can you develop cataracts earlier in life? And what can your eye care team do to help detect the signs and preserve your vision?
Let's answer these questions by looking at cataract development and the symptoms you may notice when this condition starts to affect your vision.
Healthy, clear eyesight is essential to everyone's quality of life. By understanding how issues like cataracts can affect your vision and what you can do to address the issue, you can find the help you need to protect your ability to see.
Get started by requesting an appointment with the team at Urban Optique today!
What Are Cataracts & How Do They Develop?
Let's start by defining cataracts and looking at how it develops
Cataracts are an eye condition characterized by your eye's lens becoming hazy, cloudy, or even yellowish. The issue occurs as proteins in your eye's crystalline lens break down and clump together over time, causing the lens to become rigid and opaque. As a result, light doesn't focus on your retina correctly, leading to vision problems.
Even though cataracts usually develop with age, some young people can also develop them. These types of cataracts include:
Congenital Cataracts
Congenital cataracts are cataracts that develop in babies and children. Some babies may be born with congenital cataracts, but some children may develop them as they grow up.
The risk of developing congenital cataracts can increase if your child has a family history of the condition, if their eyes experienced trauma, or if they have certain health conditions like rubella or galactosemia.
Traumatic Cataracts
Traumatic cataracts can occur when your eye suffers an injury that affects the fibres in your crystalline lens. These injuries can include:
Blunt trauma
Penetration
Radiation exposure
Chemical exposure
The best way to avoid experiencing an eye injury is to wear proper eye protection whether you're at work or playing sports.
Cataracts Caused By Health Conditions
Some health problems can increase the risk of developing cataracts, like diabetes or various genetic conditions. How fast the cataract develops and how it might affect your vision can vary depending on the health condition, but following lifestyle advice from us or your family doctor could help manage your risk.
When Will Notice Symptoms?
Cataracts typically develop slowly, and early symptoms may only affect your vision slightly. These symptoms may include:
Blurry vision
Light sensitivity
Changing lens prescriptions
Reduced night vision
Halos and glare
Faded or dull colours
Cataracts can also develop in a couple of different ways:
Nuclear cataracts develop in the centre of your lens. It may briefly improve the quality of your near vision during its early stages, but it will eventually impair your sight over time.
Cortical cataracts develop on the edges of your lens, sometimes in wedge-like shapes. Over time, the wedges grow to cover the centre of your lens and affect your vision.
Posterior subcapsular cataracts develop at the back of your lens, affecting your reading vision and increasing how much glare and halos light sources produce when you look at them.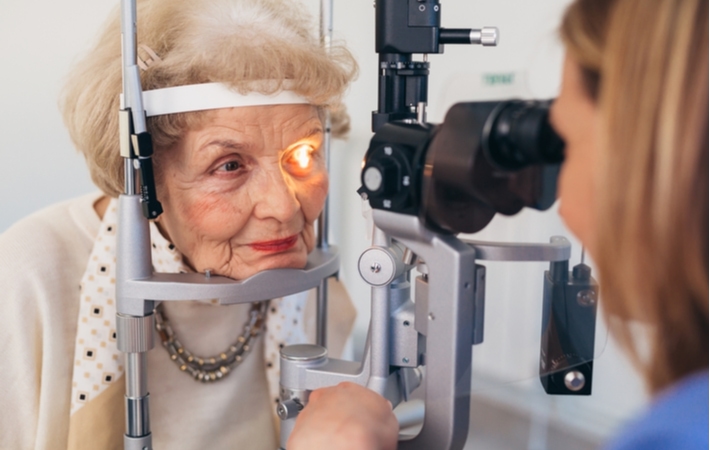 Detecting, Managing, & Correcting Cataract Symptoms
Regular Eye Exams
Regular eye exams are an essential part of managing your eye health. Our doctors have a range of tools and technology to help detect early signs of cataracts even if you haven't noticed any changes in your vision.
If you have a high risk of developing cataracts because of your age, health, or lifestyle, we may recommend having annual eye exams. We can help monitor your eyes and address issues before they affect your vision.
Prescription Glasses & Contact Lenses
Cataracts may only slightly affect your eyesight in some cases, and we can help correct these issues using prescription glasses or contact lenses. However, you may need to update your lens prescription to help you see clearly as your cataracts progress.
Cataract Surgery
Cataracts can eventually cause blindness, but cataract surgery can treat the issue and restore your clear vision.
During the surgery, an ophthalmologist (eye surgeon) removes the cataract lens and replaces it with an artificial intraocular lens (IOL) matched to your needs. Depending on what's best for your vision, you could be recommended a monofocal, multifocal, toric, or accommodative IOL.
Cataract surgery is one of the most common elective procedures in North America and can help you achieve clear, crisp eyesight within a few days of your surgery.
Vision Looking Cloudy? Book An Appointment Today
Because we believe everyone deserves clear, comfortable eyesight, we take extra care to look for conditions that can affect your vision throughout your life. By detecting these problems as early as possible, we can develop a strategy unique to your needs and help preserve your sight.Whether you need prescription lenses to help you see clearly, or you would like to know how cataract surgery can serve you, request an appointment with the Urban Optique team. See the difference passionate eye care can make today.