An "All-In-One" Eyeglass Solution
More commonly known as transition lenses, photochromic lenses are lenses that transition from clear to tinted when exposed to sunlight. When indoors, the lenses transition back to clear.
Not only are they a great all-in-one solution, but photochromic lenses are also convenient, affordable and with today's frame options, stylish.


When Were Photochromic Lenses Created & How Do They Work?
First introduced in the 1960s, photochromic lenses are created with millions of silver chloride and silver halide molecules embedded in them. These molecules are highly unique: they undergo a chemical process and change shape when exposed to UV light, turning them dark. Likewise, when back indoors and out of UV light, these molecules "snap back" to their original shape and return transparent.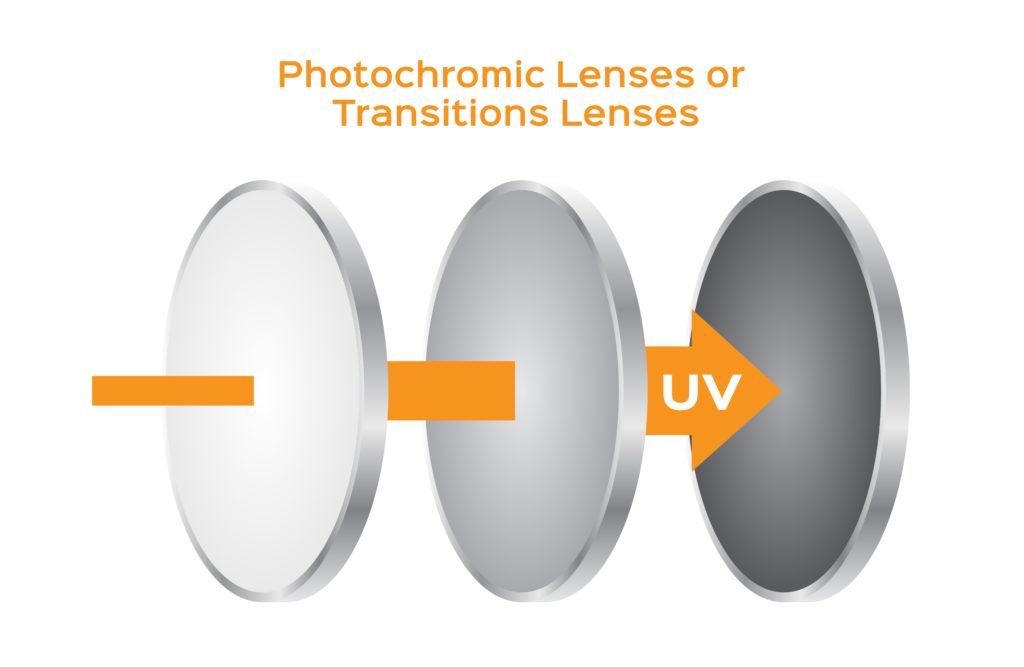 When first created, the time that it took for the lenses to transition back and forth was not perfected and took some time. However, with recent technological advancements, the lens transition time is almost immediate, allowing your eyes to adjust quickly to the change in light.
What Are The Advantages of Photochromic Lenses?
Whether someone prefers transition lenses to regular lenses is a personal choice. However, photochromic lenses do have a number of known advantages:
Convenience. You get the advantages of regular glasses and sunglasses in one convenient frame. You can move easily and freely between inside and outdoors without having to switch back and forth.
Cost. Instead of having separate glasses and prescription or regular sunglasses, you can have only one pair with all the advantages, saving you money.
UV protection. If you forget your sunglasses, you can rest assured that your eyes are always protected from harmful UV rays. Photochromic lenses are a popular choice for children for this reason – when they are outdoors, parents have the peace of mind that their eyes are always protected.
Comfort. Not only are you protected from UV rays, but glare and resulting eyestrain is reduced as well.
Loss. Photochromic lenses mean you have only one pair of glasses to keep track of, reducing the likelihood of losing expensive eyewear.
Selection. Transition or photochromic lenses are available in several modern styles and colours and can be created with most prescriptions. They can also be combined with other lens types, such as bifocals, progressives or can include specialty coatings.
Are There Any Disadvantages with Photochromic Lenses?
With anything, there can be drawbacks. However, it is up to the wearer to decide if the positives outweigh the negatives.
The most common reported drawback to photochromic lenses is transition time. While the transition from light to dark has improved with the advancements in eye care technology, it can still be considered a drawback to some people.
There are two common factors that can affect transition time:
Cold weather. Cold weather can sometimes affect transition time, so if you live in a region with long periods of cool weather, do your research and talk with your optometrist before making a choice.
Driving. A common complaint of photochromic lenses is that they don't darken fully when driving. This is because most auto glass has UV protection, which can prevent photochromic lenses from fully transitioning from clear to dark.
However, all photochromic lenses aren't created equal. Some brands have certain advantages that others do not. It is best to talk to your optometrist if these are concerns of yours.
Types of Photochromic Lenses
In the decades since their introduction, photochromic lenses have been refined and expanded to include a variety of types:
High-index lenses. These lenses are thinner and lighter than regular lenses, making them ideally suited for fashion-centric applications.
Bifocal lenses. These lenses offer two different lens powers on the same lens.
Trifocal lenses. These lenses offer three different lens powers on the same lens.
Progressive lenses. These lenses offer a range of lens powers, enabling you to see clearly at a variety of distances.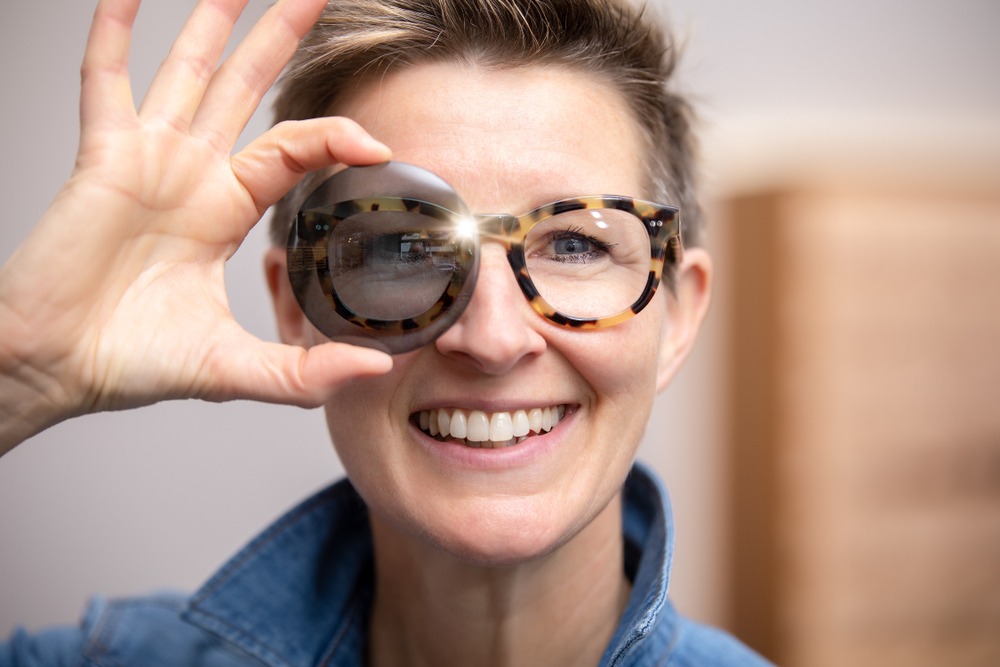 Can Photochromic Lenses Replace My Sunglasses?
Yes, they can. Almost all photochromic lenses available today, including all the versions we carry, are rated at UV 400 protection. This means they block somewhere between 99% and 100% of the sun's harmful UV rays.
If you've been thinking about investing in a pair of prescription sunglasses, but have chosen not to, you may want to consider photochromic lenses for your next pair of glasses.
Thinking of Making The Change To Photochromic Lenses? We Can Help!
We carry hundreds of different pairs of eyeglass and sunglass frames in stock. We can fit photochromic lenses into just about all of them. Come visit our optometrists in Market Mall or request an appointment. We look forward to helping you make the transition to photochromic lenses.