What Are Coloured Contacts?
Coloured contact lenses are opaque, specially developed lenses that change the colour of the eye while being worn. They are a suitable tool for users that both need and don't need vision correction to update their look without having to commit to a permanent change. They are designed to look like a natural iris, with a combination of lines and shapes to rest on top of the eye and appear as a different colour.
You can also get specialty or novelty lenses that can make your eyes look like a vampire, cat, or cover the whites of the eyes, called 'sclera lenses'. Coloured contacts often cost significantly more than regular contact lenses, usually 70 to 80% more, and specialty lenses can cost up to $200 per lens.
Are They Safe? Are There Risks?
As with any medical device, there are minor risks with wearing contact lenses, coloured or clear. It is in your best interest to source contact lenses through your eye care professional and have a contact lens exam and fitting to ensure the best fit and health for your eyes.
Following proper lens care is important to take care of your lenses and preserve your eye health. You should learn how to properly put in and remove contact lenses if you are not familiar to avoid damaging the lens or your eye. Additionally, since coloured lenses don't allow as much oxygen to the cornea, it is especially important to never sleep in coloured contacts.
Any contact lenses can pose the risk of eye infections, allergic reactions, decreased vision, or scratches on the cornea. With the proper care and guidance from your optometrist, these risks can be reduced.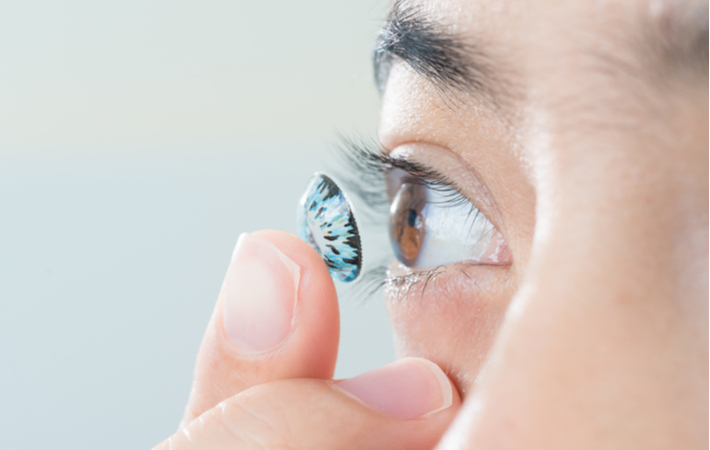 Prescription vs. Non-Prescription
Coloured lenses are available in prescription and non-prescription options. Prescription lenses are available for those who suffer from myopia (nearsightedness) and hyperopia (farsightedness) in a range of different colours. If you also suffer from astigmatism, you may notice your choices of lenses is limited or harder to find. Always consult your optician if you require a prescription but want to make a change to your current lens brand.
Non-prescription – or plano – lenses are also available to people who have good vision but want to make a cosmetic change to their appearance. They are designed to only alter the appearance of the eye and do not offer any vision correction.
Types of Coloured Contact Lenses
You can source different types of lenses with varied colours, tints, and features.
Enhancement tints enhance your natural eye colour for a subtle change that appears natural. Vivid tints are more vibrant colours that range from natural to more bright colours, like purple or turquoise. Circle lenses increase the appearance of the pupil size and are sometimes referred to as "doll's eye" lenses.
As mentioned, you can also source costume or novelty lenses to customize your look or give yourself an otherworldly essence.
Can I Wear Coloured Contact Lenses If I…
Have Astigmatism?
Although the lenses may be more expensive and harder to find, you can still comfortably and safely wear coloured lenses with astigmatism. Toric lenses are specialized lenses for astigmatism that have a weighted portion to remain stable on irregularly shaped corneas.
Have or Had Cataracts?
Most individuals with cataracts opt to have them removed so they can see clearly without a cloudy lens. Clear contact lenses are often used as a treatment after removal if the patient is not a candidate for intraocular lenses (IOLs), which are inserted into the eye. If this is the case, it is best to consult your optometrist if you are interested in coloured lenses to ensure your eyes are suitable. If you are a candidate for the IOLs, you can wear non-prescription lenses once your eyes are healed.
Wear Regular Lenses Underneath?
It is not advisable to wear coloured, non-prescription lenses over prescription lenses, as lenses are specially made to fit the eye. Additionally, they are made of a breathable material that allows your eye to get oxygen, and if you double layer, they will be thick and uncomfortable, and not allow any oxygen to get to the eye. 
The two layers may dry out and stick together, causing both lenses to tear when you try to separate them. If you are interested in coloured lenses but require vision correction, it is better to source prescription coloured lenses.
Have Had Laser Surgery?
As with cataract surgery, you can wear lenses after your eyes are healed from the procedure. It is recommended that you wait at least 2 to 3 months before being fitted with lenses.
When it comes to contact lenses, it's best to get in touch with your optometrist to learn more about what your options are. If you're interested in coloured contacts, book an appointment. One of our optometrists would be happy to help you find the right contact lenses for your eyes.