Strabismus, also known as crossed eyes, typically develops during childhood. Without proper care and management, it can lead to serious side effects that can affect the rest of your life. It can even increase your risk of permanent vision loss.
But is strabismus curable? And can vision therapy be the key to preserving your or your child's sight?
At Urban Optique, our team prides itself on providing comprehensive strategies for managing a range of vision and eye health concerns. Strabismus is just one of the many issues we're happy to help you control.
Let's look at strabismus, how it can affect your vision, and what we can do to preserve your sight from this condition.
If you or your child struggles with strabismus, please request an appointment with us today to see how our vision therapy and sports vision services can help.
What Is Strabismus?
Before we look at how vision therapy can help manage strabismus symptoms, we must first understand what it is and how it can affect your vision.
We see by using binocular vision. Our eyes move together to look at objects and send images of what we see to our brains. Our brain then combines these slightly different images into one and between the images to judge depth and distance.
In well-functioning eyes, strong muscles move the eyes together, allowing them to focus on the same thing at the same time. Strabismus occurs when these muscles don't work as well as they should, causing the eyes to become misaligned. The brain can then have trouble merging the two images together and may start ignoring information from one eye, leading to a lazy eye (amblyopia).
Strabismus generally occurs in children within their first 3 years of age, but it can sometimes develop in adults after a stroke or illness.
Signs & Symptoms
The first sign of strabismus is eye misalignment. As the condition develops, it can lead to:
Double vision
Eye movement problems
Light sensitivity
Head tilting to see properly
Poor depth perception
In severe cases, strabismus can lead to permanent vision problems.
Is Strabismus Curable?
Strabismus is highly treatable so long as our team diagnoses the issue as early as possible. The younger the child, the more successful treatment is; however, many adults can also benefit from strabismus treatment.
One of the strategies we recommend is prescription lenses, but we may also recommend vision therapy to help correct symptoms and improve vision for life.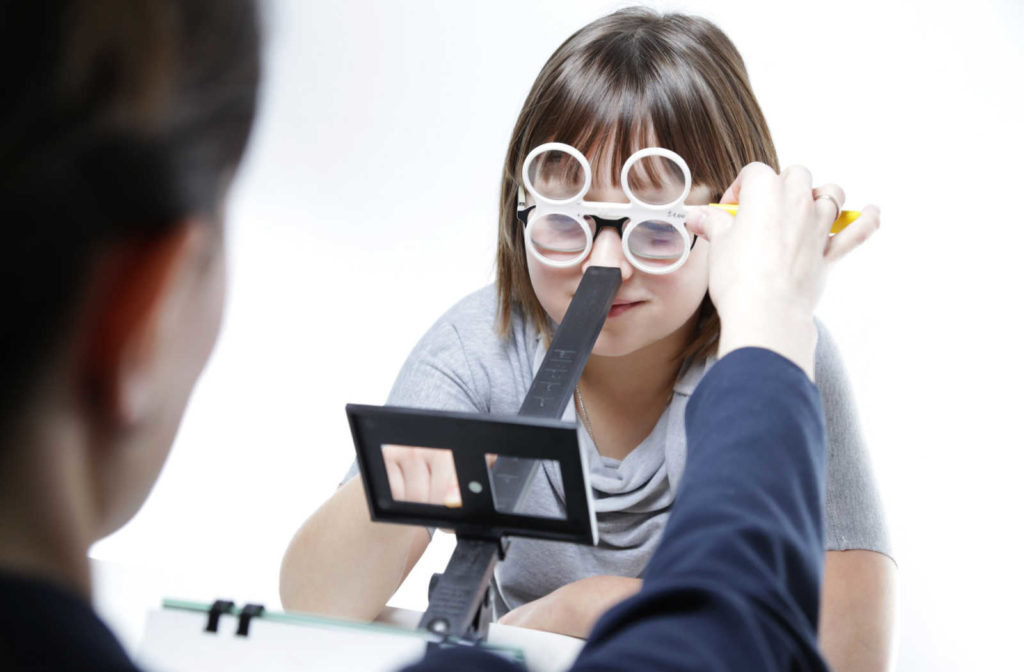 How Vision Therapy Can Help
Vision therapy is a noninvasive and personalized program that can help manage a range of eye and vision conditions. Aside from strabismus, vision therapy can help:
Amblyopia
Eye-hand coordination concerns
Focusing problems
Eye movement control
Depth perception issues
And much, much more
Every vision therapy program is unique to each patient and the type of issue they're experiencing. We offer support to children struggling with vision problems and sports vision therapy for athletes wishing to improve the visual skills they need to excel at their craft.
The program can take anywhere between a few months to a few years to show results, and it may involve various routines performed regularly. Depending on your child's symptoms, your optometrist may recommend:
Prism lenses and filters
Eye patches
Balance boards
Computer programs
Electronic targets
Your child will perform some of these exercises under our supervision, or we might recommend some that can be done at home. The key to success in vision therapy is sticking with the program and having patience—it may take a while to notice results, but don't let that discourage you.
Over time, your child can achieve clearer, more comfortable vision.
Other Ways to Manage Strabismus
Vision therapy isn't the only way to help manage strabismus and its progression. Depending on how serious the symptoms are, we may recommend a few other strategies, such as:
Strabismus Eye Surgery
In some cases, we might recommend eye muscle surgery to treat strabismus.
During the surgery, an ophthalmologist carefully moves the eye muscles to realign the eyes. However, it's possible your child may still need glasses.
Regular Eye Exams
The best way to help prevent strabismus from causing permanent vision problems is to ensure you and your child have regular eye exams.
Even if you haven't noticed the symptoms yourself, annual eye exams allow us to detect this issue—and others—as early as possible and provide a treatment plan.
Request an Appointment at Urban Optique
Regular eye exams are the first defence against potential eye problems like strabismus.
Please request an appointment with Urban Optique today to see how we can help preserve your or your child's sight. Or, if you're looking to improve your visual skills for sports, contact us to see if our sports vision training could help you achieve the edge you need to take your game to the next level.