To overcome the challenges that dry eyes and blurry vision can have, it's important to understand what's causing them. Blurry vision has many potential causes, so if you're already affected by dry eyes—or suspect you might be—it's natural to wonder if your blurriness is being caused by dryness.
Dry eye disease can cause blurriness and several other symptoms, but it is not the only cause of blurry vision. There are several eye diseases and conditions that can cause blurriness, so it's important to speak with your eye doctor and request a comprehensive eye exam if you notice your vision becoming blurry.
Speaking with your optometrist can help you increase your understanding of dry eye disease, blurry vision, and the other conditions that can affect your eyes.
How Does Dry Eye Cause Blurry Vision?
Changes to Your Tear Film
One way that dry eye syndrome can affect your eyes is by changing the quality and quantity of your tears—the liquid layer of your eyes that protects them and keeps them hydrated.
Light passes through your tears before passing through your cornea. So, what if the first thing that light passes through is distorted? When your tear film has changed as a result of dry eyes, those effects can also change the way light is focused in your eye, resulting in blurred vision.
Changes to Your Cornea
When dry eye syndrome and underlying conditions like meibomian gland dysfunction cause your tears to evaporate, your cornea may be left more exposed. Sometimes, when your cornea is exposed to air, it can haze over temporarily—much like when glass fogs over if you breathe on it—leaving you with blurry vision.
There are also specific conditions that can affect your cornea and cause blurry vision as a result of dry eyes, such as keratitis and corneal scarring. These conditions can get worse over time, so it's important to speak with your eye doctor as soon as your notice changes to your vision or other symptoms of dry eye syndrome.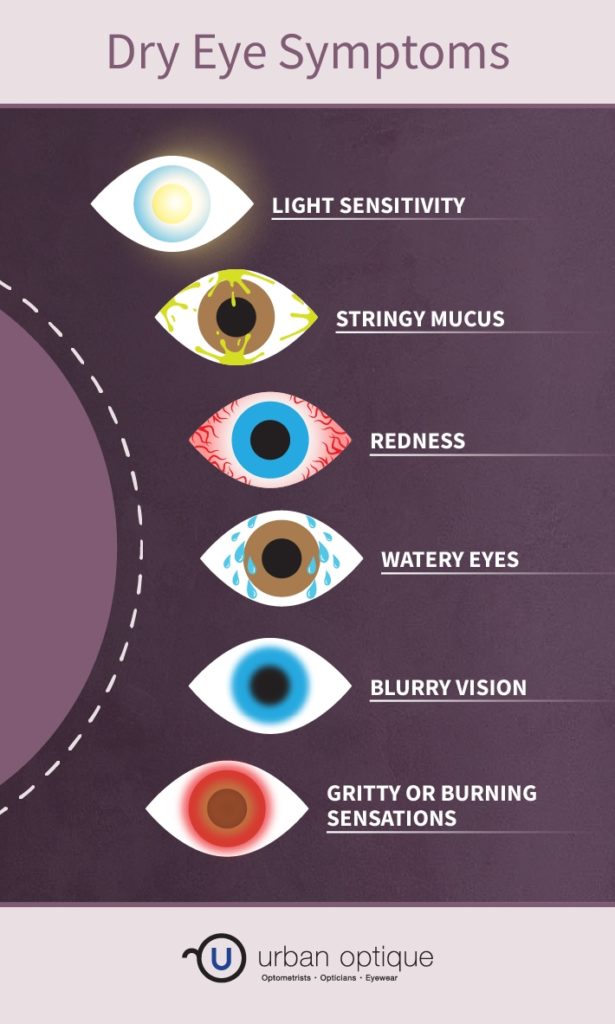 What Are the Symptoms of Dry Eyes?
Your experience with dry eyes may vary, and not everyone experiences the same set of symptoms, but some of the common symptoms caused by dry eyes include:
Blurry vision
Light sensitivity
Redness
Stringy mucus in or around your eyes
Eye strain
Gritty and burning sensations
The sensation of something being in your eye
Watery eyes
Difficulty wearing contact lenses
Challenges related to seeing clearly while driving at night
The symptoms of dry eyes can often depend on the underlying cause, so identifying and treating that underlying condition is just as important as treating your symptoms when it comes to getting lasting dry eye relief.
How Do You Treat Dry Eyes?
You have many options for getting relief from dry eyes. Some can be done at home and are as simple as changing the foods you eat, while others can be provided by your optometrist to treat the underlying cause of your dry eyes and provide relief from your symptoms.
Eye Hygiene & Nutrition
Blepharitis—eyelid inflammation—is a common cause of dry eyes. Practicing good eyelid hygiene by gently cleaning your eyelids can help keep the glands in your eyelids healthy and prevent dry eye symptoms caused by blepharitis.
You can also eat foods that support eye health and follow ocular nutrition recommendations from your eye doctor. Foods that contain omega-3 fatty acids can be particularly helpful for reducing discomfort caused by dry eyes, as the benefits of omega-3s can include improved oil production and reduced inflammation around your eyes.
Your eye doctor may recommend taking omega-3 supplements or other nutritional supplements if they believe your eyes could benefit from increasing specific nutrients in your diet.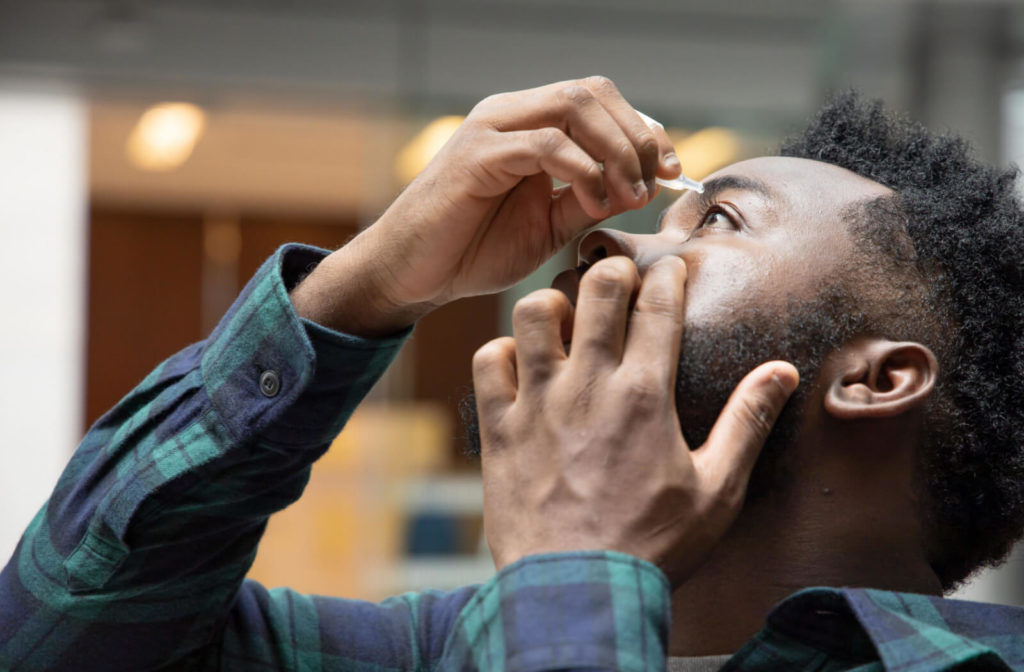 Artificial Tears
Preservative-free artificial tears can help keep your eyes lubricated during periods of time when symptoms of dry eye disease flare up. As your eye care professionals, we can help you find the right type of artificial tears for your eyes.
In-Office Treatments
There are several in-office treatments that can provide lasting relief from chronic dry eye by addressing the underlying conditions that cause dryness. Treatments may involve massaging and warming your eyelids, gently cleaning your eyelids, or the use of specialty plugs and other equipment to support the health of your eyelids, glands, and tears.
A thorough examination during a comprehensive eye exam can help us find the cause of your dry eyes and determine which treatments can provide relief.
What Else Can Cause Blurry Vision?
Your eye has different parts that all work together to provide clear vision, so changes to many parts of your eye can cause blurriness. Any time your vision becomes noticeably more blurry, you should schedule an appointment with your eye doctor.
Determining the cause of your blurry vision is important for both maintaining clear vision and preserving the long-term health of your eyes.
Refractive Errors
Individuals affected by refractive errors like myopia (nearsightedness) and presbyopia (age-related farsightedness) may experience blurred vision at different distances.
Much like dry eye disease, refractive errors can be diagnosed during a comprehensive eye exam. However, where individuals affected by blurry vision from dry eyes may need dry eye treatment, those affected by refractive errors often get the support they need from eyeglasses and contact lenses.
Other Eye Diseases & Health Conditions
Dry eye disease is just one of several health conditions that can cause blurry vision. Other eye diseases, like cataracts, glaucoma, and age-related macular degeneration, can cause blurry vision that can eventually transition into vision loss.
Other health conditions, such as diabetes, high blood pressure, and autoimmune diseases like Sjogren's syndrome, can also cause both blurry vision and dry eyes, as well as contribute to eye conditions that can cause blurry vision.
Support for Blurry Vision & Dry Eyes
While dry eyes can cause blurry vision, there are also several other conditions that can also cause blurriness. Getting a comprehensive eye exam from your eye doctor is essential for identifying the underlying cause of both blurry vision and dry eyes—and for getting the right type of treatment.
At Urban Optique, we are committed to providing complete care for your vision and eye health. We can take the time to answer your questions and help you understand both the conditions that can affect your vision and your options for treatment.
Request an appointment to speak with us about your eyes.