If you've always had clear vision, you may take it for granted.
The truth is, vision is one of the most important senses we have and it's important to take care of it. Getting regular eye exams is an easy way to ensure your vision and eye health are being properly taken care of, but how can you take care of your eyes in-between visits to your optometrist?
Keep reading to learn more about why good vision is so important, how you can improve your eyesight naturally, and how to know when it's time to book an appointment with your eye doctor.
Why is Having Good Vision Important?
Almost 80% of what we perceive is done through our eyes, so it can drastically affect our lives when our vision starts changing for the worse.
By taking steps to improve your vision, you not only reduce the odds of vision loss but it also helps you stay on top of any developing eye diseases such as cataracts and glaucoma.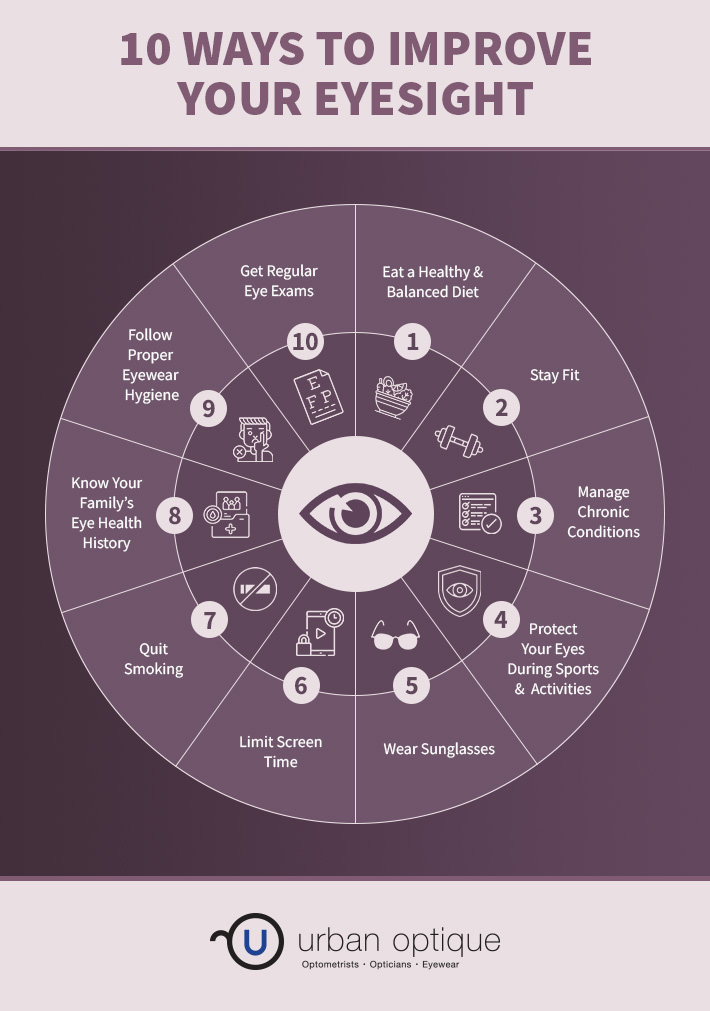 10 Ways to Achieve Better Vision Naturally
At Urban Optique, our team is here to help you improve your vision, both in our practice and at home. Here are our top tips for improving your vision naturally.
Eat a Healthy & Balanced Diet
Eating a balanced diet can greatly affect your eyesight. To improve your eyesight make sure to include a range of vitamins, especially vitamins A, C, and E, as well as the mineral zinc, and foods rich in omega-3 fatty acids in your diet.
Foods that are good for your eyes include:
Salmon
Flax seeds
Leafy green vegetables
Eggs
Bell peppers
Seeds & nuts
Lean meat & poultry
Beans & legumes
Stay Fit
Maintaining a healthy weight can help your eyesight and improve your eye health.
Regular exercise can lower intraocular pressure (IOP) and increase the flow of blood to the optic nerve and the retina. This can help lower your risk for developing certain eye conditions, such as glaucoma, macular degeneration, and diabetic retinopathy.
Manage Chronic Conditions
Chronic health conditions, such as diabetes and multiple sclerosis can affect your vision.
These health conditions can damage your eyesight, which is why it's important to manage them with healthy habits and medications.
Protect Your Eyes During Sports & Activities
When playing sports or participating in physical activity, it's vital that you protect your eyes with appropriate eyewear.
If you're ever doing anything that puts your eyes at risk, it's best to use protective eyewear to limit vision damage.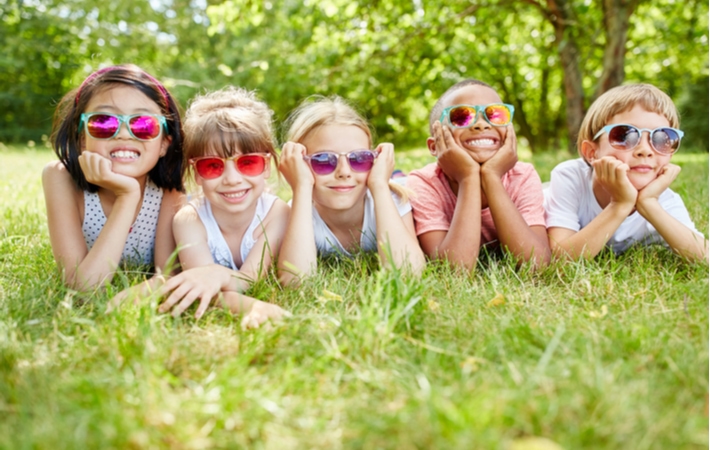 Wear Sunglasses
Sunglasses protect your eyes from the harmful effects of UV rays.
When your eyes are exposed to UV light, it increases your risk of developing an eye disease, and can also lead to other eye health issues such as sunburning, growths, and vision loss.
Limit Screen Time
Using digital screens for long stretches can lead to digital eye strain which can leave your eyes feeling fatigued, dry, and irritated.
To protect your eyes from digital eye strain, book an appointment with your optometrist. Your optometrist can help you avoid harming your eyes while using a digital screen, whether it be a computer, your phone, or a TV.
Quit Smoking
You know smoking is bad for your health, but did you know that it can affect your eyesight too? Smoking raises your risk of developing eye conditions, such as cataracts and age-related macular degeneration.
Know Your Family's Eye Health History
Some eye conditions are hereditary, so knowing your family's health history can help you take the precautionary steps to take care of your vision before damage can occur.
If you have a family history of any of the following eye conditions be sure to let your optometrist know during your next eye exam:
Follow Proper Eyewear Hygiene
If you wear glasses or contacts, it's important that you follow a proper hygiene routine to protect your eyes from harmful infections that can affect your vision.
Always be sure to care for your eyewear as instructed.
Get Regular Eye Exams
The best way to ensure that your eyes stay healthy is by getting regular eye exams. During an eye exam, your optometrist has the opportunity to assess the health of your eyes, look for early signs of eye disease, and help you maintain your eye and vision health.
Your Optometrist is Here to Help
Living a healthier lifestyle and protecting your eyes doesn't mean you'll always have perfect eyesight, but it does mean your risk for developing eye conditions and vision issues is lower.
To ensure you achieve the best vision possible it's important to combine at-home care with regular visits to your optometrist.If you have any questions or concerns about your eye health, please feel free to contact us at Urban Optique! Our team is always here and happy to help.