What is Pink Eye?
Pink eye, or conjunctivitis, is a common ailment that affects the eyes and makes them uncomfortable, itchy, and red. The eyelids have thin membranes that line the eyelids and cover the white part of the eyeball, and pink eye is an inflammation or infection of that membrane.
Pink eye is most commonly found in children and adolescents, however, it can and does happen to adults regularly.
Depending on the underlying cause, pink eye can be chronic or acute. Chronic pink eye can have more intense symptoms, last longer, and recur more frequently. Acute pink eye may only last a few days and be fairly manageable.
Causes of Pink Eye
Pink eye can happen due to a variety of things. The most common is from a viral infection, such as an upper respiratory infection, cold, or flu. If one of these infections results in pink eye, it is very contagious and should be properly taken care of to prevent spreading. Viral pink eye cannot be treated with drops or antibiotics and usually goes away on its own.
Pink eye can also occur from bacteria getting into the eyes. Bacterial pink eye is also very contagious and severe cases may require antibiotic treatment. You can spot bacterial pink eye from a surplus of thick mucus coming from the eye, where viral pink eye produces more watery discharge.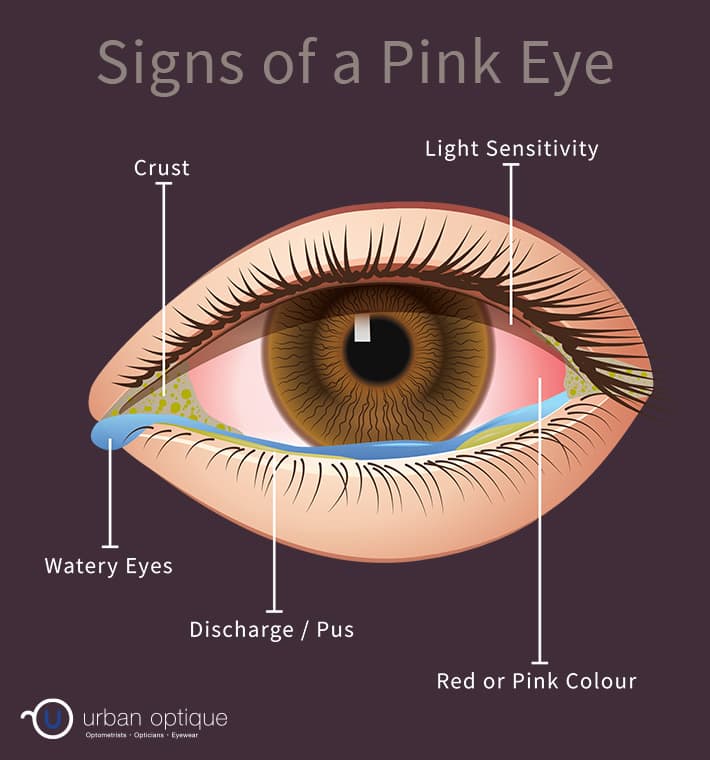 Symptoms of Pink Eye
The symptoms that show up most often in cases of pink eye are:
Red, irritated looking eye(s)

Itchy, uncomfortable eye(s)

Watery discharge or pus

Light sensitivity

Crust forming on the edges of eyes from pus buildup
Treatment of Pink Eye
Depending on the severity of the case, the treatment of pink eye can vary. In more severe cases, antibiotics or other prescription drugs may be necessary to treat the eyes. To soothe the eyes, cold compresses, painkillers, and over the counter drops can help during healing.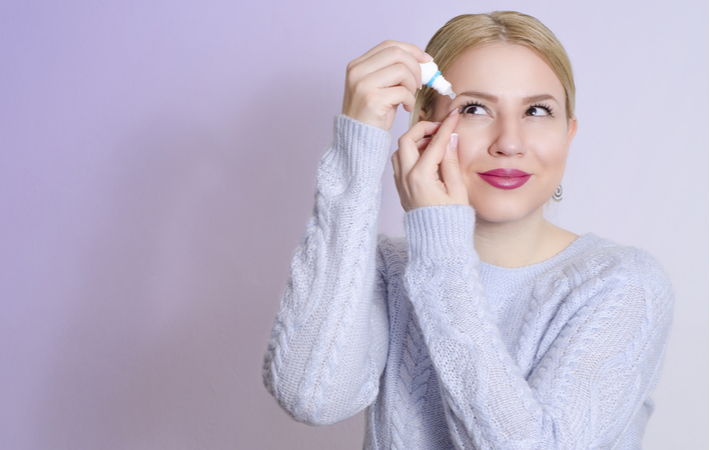 What Are Allergies?
Allergies are responses from the immune system when they come into contact with substances that irritate the body. The immune system overreacts to certain substances after seeing them as harmful and causes the typical allergic reactions we are used to, from itchy, red, watery eyes to anaphylactic shock.
Causes and Symptoms of Allergies
Allergic reactions can vary from mild to severe and affect airways, sinuses, nasal passages, eyes, skin, and digestive system. In some cases, an allergic reaction can be life-threatening.
Some examples of common allergies are:
Hay fever:

Causes sneezing, itchy, watery eyes and throat, and runny nose.

Food allergies:

Tingling or itching of the mouth and tongue, swollen mouth and tongue, hives, and anaphylaxis.

Drug allergy:

Hives, itchy skin, rash, swelling, anaphylaxis
Treatment of Allergies
Usually, allergies can be treated with over the counter antihistamines which will minimize or prevent symptoms. Eye-related symptoms for allergies can be treated most of the time with over the counter eye drops. For more serious reactions, always visit your optometrist or your doctor. If you suspect anaphylaxis is taking place, call 911, and always carry an Epi-Pen for future situations.
Differences Between Allergies & Pink Eye
Usually, eyes are only ever bothered by certain allergies, such as hay fever or allergic reactions to pet dander. These reactions are usually accompanied by an itchy throat, sneezing, and wheezing.
Pink eye is caused by irritation or infection and usually accompanied by pus and pain. If you can't tell the difference, always visit a doctor.
For more information, check out the rest of our blog to keep up to date and in the loop on your eye health. Alternatively, book an appointment to visit one of our doctors and ensure your eyes are getting the best care they can. If you're unsure of whether you have pink eye or allergies, visit your optometrist for diagnosis and treatment.