Myopia and hyperopia might sound like technical words, but they refer to 2 common refractive errors—nearsightedness and farsightedness—that affect how clearly we can see at certain distances.
Myopia, commonly referred to as nearsightedness, means you can see clearly close-up but your distance vision is blurry. Hyperopia is often referred to as farsightedness, meaning you have clear distance vision, but have blurry vision close-up.
Both myopia and hyperopia can be detected in a comprehensive eye exam. While these vision problems are common, it's important to have them checked out—especially if they begin in childhood. Early intervention can help children and adults gain clearer, more comfortable vision and reduce the risk of eye disease later in life.
Understanding Myopia & Hyperopia
While myopia and hyperopia differ in terms of how they affect our vision, they do share some similarities. Both conditions are refractive errors, meaning they involve an issue with the way light is focused by the eye.
What Is Myopia?
People with myopia (nearsightedness) have difficulty seeing distant objects clearly. With myopia, the eyeball is slightly elongated, causing light to focus in front of the retina instead of directly on it. As a result, distant objects appear blurry or out of focus.
What Is Hyperopia?
Hyperopia (farsightedness) presents a different set of challenges. People with hyperopia can see distant objects more clearly than nearby objects. This happens when the eyeball is too short, or the cornea is flatter than usual. Consequently, light entering the eye focuses behind the retina instead of directly on it, making nearby objects appear blurry.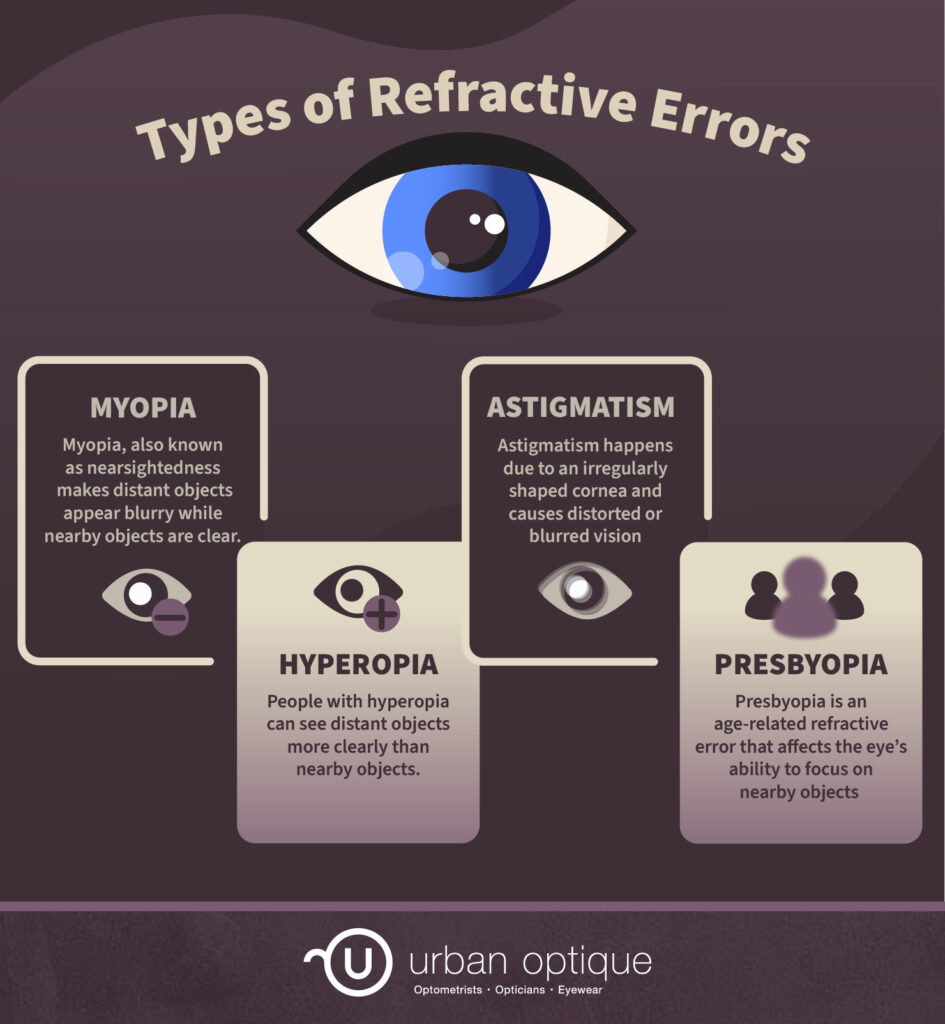 Other Common Refractive Errors
Apart from myopia and hyperopia, there are 2 other common types of refractive errors that can affect our vision: astigmatism and presbyopia. These conditions can impact our ability to see clearly, but they have distinct characteristics.
Astigmatism is a refractive error that occurs when the cornea is irregularly shaped, causing light to focus on multiple points instead of a single point on the retina. This results in distorted or blurred vision at all distances.
Presbyopia is an age-related refractive error that typically occurs after age 40. It affects the eye's ability to focus on nearby objects due to the natural aging process of the lens and surrounding muscles.
What Causes Refractive Errors?
The causes of refractive errors can vary depending on the specific condition. Family history often plays a role, meaning that if your parents or siblings have a refractive error, you may be more prone to developing one as well. However, it's important to note that genetics alone may not fully determine whether or not you will experience a refractive error.
Common risk factors for myopia include:
A family history of myopia
Limited exposure to natural sunlight/spending significant time indoors
Spending excessive time engaged in near-work activities like reading or using digital devices for extended periods
Common risk factors for hyperopia include:
Age
A family history of hyperopia
Certain health conditions, such as diabetes or eye injuries
Can You Have Myopia & Hyperopia at the Same Time?
While it isn't possible to have myopia and hyperopia concurrently in the same eye, it is possible to have different refractive errors in each eye. For instance, 1 eye could be nearsighted while the other is farsighted. It's also possible for myopia or hyperopia to coexist with astigmatism in the same eye.
Having multiple refractive errors in the same eye can pose unique visual challenges. Your eye doctor can detect these visual differences through an eye exam and recommend treatment to help improve your vision.
Treatment Options for Refractive Errors
Refractive errors are incredibly common, and therefore, there are a variety of ways to correct them.
Eyeglasses: Eyeglasses are a popular and effective choice for correcting refractive errors. With a wide selection of fashionable frames, you can find eyeglasses that not only enhance your vision but also reflect your personal style.
Contact Lenses: Contacts offer an alternative to eyeglasses, providing greater freedom and convenience. From daily disposables to extended wear options, there are a variety of contact lens types available to suit your lifestyle.
Refractive Surgery: For those seeking a more permanent solution, refractive surgery may be an option. Procedures like LASIK can reshape the cornea to correct refractive errors. While not everyone is a suitable candidate for refractive surgery, your eye doctor can evaluate your eligibility and provide guidance if this is a path you wish to explore.
Myopia Control
Myopia control focuses on slowing the progression of myopia in children and young adults, reducing the potential risks associated with higher levels of myopia later in life. These strategies aim to address the underlying causes of myopia and provide clear vision while minimizing the progression of the condition.
Myopia control eyeglasses and contact lenses use special lens shapes and designs to help slow the progression of myopia, providing clear vision while addressing the underlying issue.
Orthokeratology (ortho-k) is another option for myopia management. This technique involves wearing specially designed gas-permeable contact lenses overnight. These lenses gently reshape the cornea while you sleep, temporarily correcting your myopia during the day without the need for glasses or contact lenses.
Another approach to myopia management is the use of atropine eye drops. These drops are applied to the eye before bedtime, and their low concentration helps to relax the focusing mechanism of the eye and slow the progression of myopia.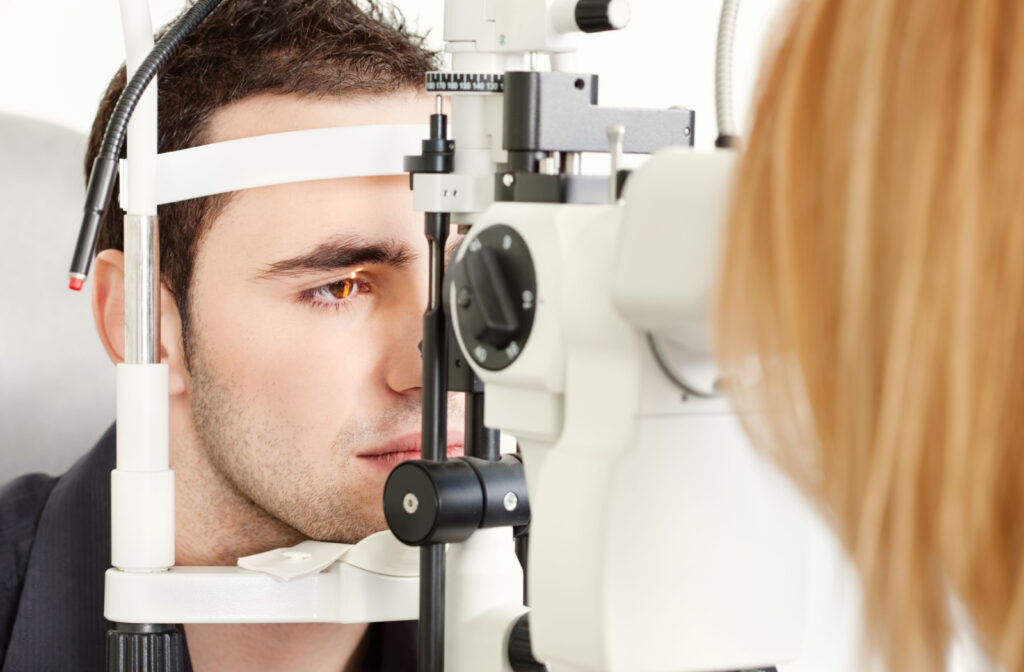 Your Eye Care Questions, Answered
If you suspect you might have a refractive error, an eye exam is the first step in correcting your vision.
When you visit us at Urban Optique, we can evaluate your vision, update your prescription, and check in on your eye health to note potential changes that aren't visible on the surface. Whatever your eye care questions are, we're ready to help. Request your appointment today.