When you visit your eye doctor for an eye exam, you have the luxury of choosing glasses that suit your face, style, and personality. But we understand how tempting it is to buy glasses online.
Ordering glasses online has become increasingly popular in recent years. It can be a convenient way to get your new eyewear without leaving your home.
However, many people wonder if it's safe to order glasses online. While it's considered safe to order glasses online, there is a risk because you're bypassing your eye doctor, who can help you select the right eyewear for your vision and eye health.
Understanding the risks of purchasing glasses online can help you find eyewear that meets your needs.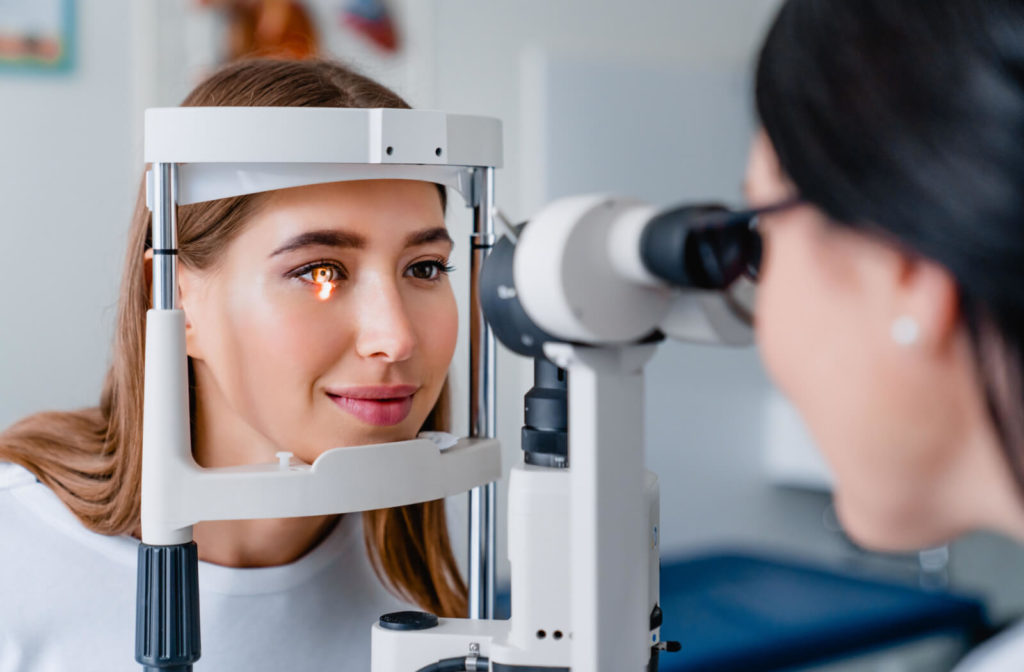 The Process of Selecting Glasses
Selecting glasses can be an integral part of the eye care process. Your eye doctor will take critical measurements to help determine the right lenses and frames for your vision.
Typical steps in selecting glasses with your eye doctor can involve the following:
Determining your prescription: Your eye doctor will first perform a comprehensive eye exam to determine your eyeglass prescription.
Taking measurements: Your optometrist may take measurements of your eyes, such as the pupillary distance (distance between your pupils), as this is unique to your eyes and face. Another measurement is the position of your eyes relative to the frames so you can see out of your lenses correctly. Measurements may also be necessary to determine the height to place the optical center of the lens in your frames and measure how high to place bifocal or progressive lenses.
Fame selection: Your eye doctor can help you select the right size and shape of frame to find an option that fits your style and preferences and suits your prescription and facial features.
Lens selection: Based on your prescription and visual needs, your eye doctor will determine the lens curvature and type of lens material to use and recommend coatings to use for lenses suited to your needs.
Final fitting: After order placement and quality check, your eye doctor can adjust the frame to your face to ensure comfort and proper alignment with your eyes.
Why You Shouldn't Buy Glasses Online
Buying glasses online can have benefits, such as saving time and possibly money. But there are some drawbacks and risks, which can include:
You can't try on the glasses or have someone there to help you.
You may not be able to order the right glasses if you can't measure your pupil distance.
Online glasses can have the wrong prescription, which may lead to blurred vision and discomfort.
Improperly ordered or fit eyewear can lead to headaches, fatigue, an "eye pulling" sensation, nausea, discomfort, and pressure marks on your nose or around your ears.
You may need exact fitting measurements for progressive lenses, which are usually done in person when you try on the frames.
Some online stores may not take insurance.
Protect Your Vision with the Right Glasses
Eyeglasses are more than a fashion accessory you can easily buy online. When you choose how you buy your glasses, you are taking measures to support your eye health and vision.
Before ordering new glasses, it's essential to have a comprehensive eye exam from your eye doctor. Adult and children's eye exams can provide up-to-date prescriptions and help your eye doctor check for underlying eye conditions.
A prescription for glasses should include the following:
The eye doctor's details, including their name, practice address, telephone number, and signature
Your name and details
Date of the eye exam and prescription expiry date
Information used for dispensing glasses, such as lens power, magnifying power, and pupillary distance
Eyewear prescriptions can contain additional information too, such as lens design and coatings.
Before you decide to buy glasses online, speak to your eye doctor. For complex prescriptions and other eye conditions, finding a good fit online can be challenging and may lead to more harm than good.
By following your eye doctor's guidance, you can find eyeglasses that meet your vision needs and suit your style.
Safeguard Your Vision
Buying glasses online might be easy and quick, but are they worth the risk to your vision and eye health? The selection process at Urban Optique is a collaborative effort between you and your eye care team.
When you book an appointment with us, we can help you find the right glasses for your vision, eye health, and lifestyle.